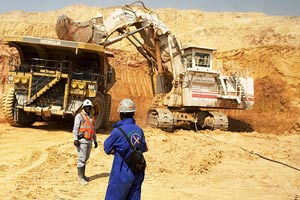 Posted on :Wednesday , 3rd March 2021
The Ministry of Mining was founded in 2013 by President Uhuru Kenyatta to set up a new ministry mandated solely to develop the mining sector after having been given prominence by the 2030 Pillar 7 vision, which described the mining or extractive sector as a key contributor to a diversified economy with potential for jobs and wealth creation in Kenya.
Traditionally, mining was not the key focus of environmental and natural resource management-mining was generally overlooked. It is therefore no wonder that Kenya never realized the full potential of mining until 2013 after President Uhuru Kenyatta's government, whose transformation agenda included taking mining to the forefront.
With that, Kenya's mining journey has started in earnest, and the country has embarked on a reform agenda to turn mining to be more inclusive, modern, to ensure that the sector attracts responsible investors and to legitimize Artisanal and Small-scale miners, while at the same time providing community (Kenyan) benefits.
The Ministry's aim is to turn mining into a key contributor to the country's economic development and transition. The goal is to see double digits of growth and GDP in the mining sector. Kenya is used as a center for mineral trade and value adding for East and Central Africa, leading the way in strategic skills, logistics, support for mineral ventures and services. We have plans to enhance leadership by creating a regional exchange of minerals and metals.
To this end, the Ministry is charged with fostering Kenya as a mineral center for players around the board by introducing the right reforms and developing an atmosphere that ensures that mining projects succeed on the basis of a win-win formula, i.e. for developers, national governments, county governments and communities. The Ministry is making concerted efforts in the spirit of inclusiveness to ensure that Kenyans who have been removed from the mining eco-system are now part of it. In addition, attempts are being made to attract large-scale mining in the country to provide investment, technology transfer, technological knowledge and highly skilled employment and opportunities.
Today, Kenyans are more conscious of the opportunities in the mining sector (especially Artisanal Miners) who are now claiming to have their room encouraged by the progressive mining legislation in place. Tiny and medium size miners are now showing increased interest. Exploration and mining firms in Kenya are undertaking exploration leading to the declaration of what is called the continent's largest gold discovery-1.3 million ounces of inferred gold along the Liranda corridor in Ikolomani, western Kenya.