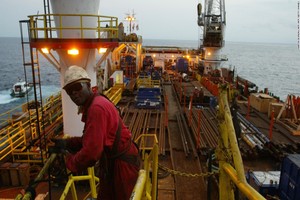 Posted on :Thursday , 30th November 2017
To enhance the availability of fuel at home and in the neighboring countries the Kenya Pipeline Company (KPC) is undertaking a number of petroleum infrastructure projects.
They include the enhancement of storage capacity, the replacement of pipelines, and investment in loading facilities.
With efficient infrastructure, Kenya is assured of a adequate, reliable, and cost-effective supply of petroleum products across the region.
However, KPC is trying to bridge the gap between in regional and local demand for petroleum products and the available infrastructure.
There has been an increase in the demand for refined petroleum regionally to 13 percent of Kenya's total exports, making it the third largest export product after cut flowers and tea.
Last year, the country exported about 2 billion liters of refined petroleum products to the East African countries and the Democratic Republic of Congo.
The Sinendet in Rift Valley to Kisumu (Line 6) pipeline has boosted petroleum products availability in western Kenya and the export market of Uganda, Burundi, Rwanda, eastern DRC, and northern Tanzania.
The installation of additional loading facilities is complete and this will help to keep up with the increasing demand for petroleum product uplifts at KPC's Eldoret depot, which will serve western Kenya and the neighboring countries.
The completion of the new truck loading facility has led to the increase in Eldoret's capacity from 4 million liters to 6.5 million liters a day. It has also increased efficiency, maximizing the benefits of the Nairobi-Eldoret pipeline.
Fuel exports to East Africa through Tanzania and Uganda will increase once the construction of the Kisumu Oil Jetty on Lake Victoria is completed.
The project could make Kisumu one of the busiest inland ports in Africa and a hub for Oil and Gas commerce.
The projects have been going on in tandem with the Sh48 billion new Mombasa-Nairobi oil pipeline project (Line 5), the country's second-largest infrastructure undertaking, which will be commissioned by the end of the year.
The completion raises hopes of lower road maintenance costs, considering the hundreds of trucks to be removed from the roads.
Four new pump stations will be installed at Mtito Andei Maungu, Changamwe, and Sultan Hamud and two booster pump in Kipevu, complete with firefighting systems, other energy efficient equipment, and pipeline monitoring technologies for efficiency and safety.
With the completion of Line 5, there is a need for enhanced operational flexibility in Nairobi as higher volumes of fuel will be pumped upstream.
The KPC has erected four new tanks at the Nairobi Terminal to provide sufficient capacity for receipt of higher volumes of diesel, super petrol, and jet fuel.
They will be commissioned before the end of the year.
By investing in infrastructure projects to improve on how fuel gets to our customers and consumers, Kenya has an opportunity to bolster regional business and strengthen ties with the neighboring countries as it strives to transform the lives of its people.