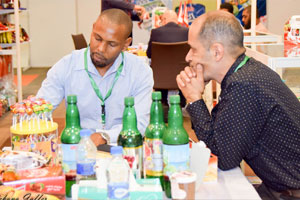 Posted on :Tuesday , 13th June 2017
With its land and water resources, motivated agricultural entrepreneurs, and access to international markets through a major port, Tanzania has excellent potential for agriculture-led economic growth. Furthermore, women account for 70 percent of those employed in the sector, allowing them to participate along the entire value chain and empowering them as beneficiaries. Tanzania's climate is favorable for a variety of crops—and with improved seeds, productivity stands to rapidly increase, so this upward trend has been welcomed by the best global Food and Agriculture players, as they ready themselves for the return of Africa's premier and most trusted Food, Hospitality and Agriculture trade exhibition.
Agriculture is Tanzania's economy mainstay, contributing USD 13.9bn to its GDP (nearly 30%) and 67% to total employment during 2014. Agricultural land in Tanzania was last measured at 396,500sq.km in 2013 (45% of total land area) versus 369,744sq.km in 2008, representing an increase of 7% over the 5–year period.
In a bid to ensure production and supply of fertilizers in Tanzania, the Norwegian YARA International company, which produces fertilizers has announced to invest 80bn/- at the Port of Dar es Salaam so as to improve the business. The idea is likely to improve agriculture production in the country, since majority farmers will benefit from the huge investment. The Norwegian ambassador to Tanzania, Ms Hanne-Marie Kaarstad said his country is committed to boost agriculture sector in the country. This shows the growing opportunities in this sector and how the government, project developers and financers are working towards that growth.
From August 22 – 24 Expo Group will bring to you the 20th FoodAgro Tanzania 2017 where more than 150 exhibitors from 20 countries will showcase their latest wares to thousands of trade buyers and decision makers from throughout the Middle East, Africa, and further afield.
The 3 day event will take place at The Mlimani Conference Center, and will arrive with the biggest aftermarket brands on-board, spread over 15 product categories, Food and Beverage, Hotel Supplies, Poultry and Livestock, Display and Storage to name a few
With more than 150 exhibitors combined, Food and Beverage, Hotel Supplies and, Display and Storage comprise the largest portion of FoodAgro Tanzania, and features global stalwarts such as Frigo Mekanik Insaat Tesisat Ve Taahhut Sanayi Ve Ticaret A.S- Turkey, Vishal Containers Ltd- India, Guntner Gmbh & Co. Kg- Germany to name a few.
Pragnesh Khoyani Design Engineer - Promens, India had a few things to say about last years FoodAgri Exhibition "For us FOODAGRO is particularly is interesting. More than 60 percent of the visitors come from positions of responsibility. Over 40 percent of the trade visitors come specifically looking to invest, and one quarter of them follow up with an order. That is what makes FOODAGRO an absolute must for us."
S.U Alamgir Managing Director - Globe Soft Drinks Ltd , Bangladesh said "This year, it has been very good for us. FOODAGRO has been great to launch new products and establish new trends. We really appreciated the top organization that facilitates to use the three days of exhibition to its fullest extent."
Ramesh Ramanujam Consultant - Kamal Wineries, India said "FOODAGRO has an excellent format, organization, and accommodation and transportation service. In three days you can make great business contacts here! This year we got a more prominent position in a bigger hall, where customers seem to stay longer."
Networking at FoodAgro Tanzania 2017 will be the most comprehensive forum where international agriculture, food, dairy and livestock industries executives, academia, institutional investors, venture capitalists, analysts, progressive farmers and other experts will have the opportunity to shape the future collaboration landscape of agricultural technology. The event is aimed at senior-level executives and it will include industry specific Government bodies and corporate that enables you to pre-arrange one on- one meetings in your desired areas.
20th FoodAgro Tanzania 2017 is the place to meet and do business with leading food and agricultural practitioners from around the world. It is an event you cannot miss!