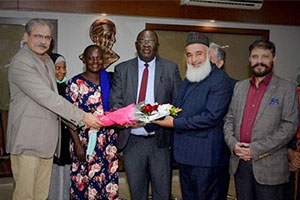 Posted on :Wednesday , 2nd December 2020
Paul F. Koyi President of Tanzania's Chamber of Commerce, Industry & Agriculture of the country (TCCIA) encourages businessmen from Pakistan to explore more forms of trade and investment cooperation in various sectors of the economy.
Koyi said on a visit to the Karachi chamber of commerce and industry (KCCI) Headquarters, Tanzania is a very peaceful country which has immense commercial and investment potential in several sectors. It is particularly agricultural which the Pakistani industry and enterprise can explore.
"The business communities of both countries must be taken closer to each other, create trust and get together. The main reason for being in Pakistan is to bridge the gap, to reinforce relations and to explore opportunities for trade expansion."
Koyi, who now leads a 4-member commercial Tanzanian delegation to Pakistan, said it makes no sense to remain confined only to the trading of raw material.
"Abode promoting opportunities for tourism, natural habitat, mines and minerals and others, especially in farming, business communities on both sides will need to focus on adding value," said the Tanzanian trade chief.
Koyi invited Pakistani businessmen and businessmen to visit Tanzania and pointed out that not only will it help to strengthen established business relations but also provide an opportunity to explore the Tanzanian market further where there are lucrative opportunities and comparatively low business cost.
KCCI president Shariq Vohra said Pakistan's export to Tanzania was worth $87.2 million in 2019 while imports only amounted to $20.53 million," said Vohra, emphasising joint effort and greater cooperation among the two countries' business community. "To improve trade with Tanzania, more products can be found. Pakistan currently lacks cotton in the country and Tanzania can assist in fulfilling this demand," said Vohra.