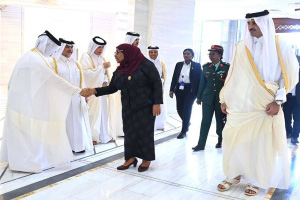 Posted on :Monday , 27th February 2023
Two more United Arab Emirates companies have made in-roads into Tanzania, following President Samia Suluhu's trip to the Gulf country last year to seek business.
On 6th February, the Tanzania Forest Services Agency (TFS) and UAE-based Blue Carbon LCC announced a joint environmental conservation programme to promote sustainable forest management practices while reducing greenhouse gas emissions.
It came after state-owned Emirates National Oil Company (ENOC) on 27th January signed a MoU with Tanzania's Ministry of Energy to invest up to $500 million in expanding the national imports gateway for fuel products and related storage facilities.
Presidential Seal
President Samia's administration has made the UAE a top target of its international economic diplomacy agenda since she assumed power 2 years ago. During an official visit to Dubai in February 2022, she made a personal appearance at the Expo Dubai festival where 36 bilateral MoUs were signed between Tanzania and UAE authorities for total investments of $7.49 billion.
The deals involved energy, agriculture, infrastructure, tourism and transport technology sectors. Tangible results of that trip have so far included a $500 million deal for Dubai-based logistics firm DP World to improve ICT and other infrastructural systems at Tanzania's seaports and another agreement for UAE renewable energy firm Masdar to oversee the development of up to 2GW of renewable energy in Tanzania.