Posted on :Monday , 27th February 2023
Going by the National Bureau of Statistics (NBS), with 100,371 arrivals last year, France brought in the second highest number of arrivals from outside the African continent, after the US, whose figures stood at 100,600.
The Basa, meant to attract more tourists, was signed by the Works and Transport minister, Prof Makame Mbarawa, on behalf of Tanzania and Franceâ€&. . .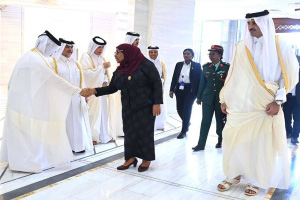 Posted on :Monday , 27th February 2023
Two more United Arab Emirates companies have made in-roads into Tanzania, following President Samia Suluhu's trip to the Gulf country last year to seek business.
On 6th February, the Tanzania Forest Services Agency (TFS) and UAE-based Blue Carbon LCC announced a joint environmental conservation programme to promote sustainable forest management practices wh. . .