Media/Press Releases
The event is very well advertised and promoted on all platforms as follows :
Email Campaigns

Newsletters

Flyers

Billboards & Hoardings

Road shows

Email Invitations
Media coverage on local NewsPaper
Published on 23rd September, 2022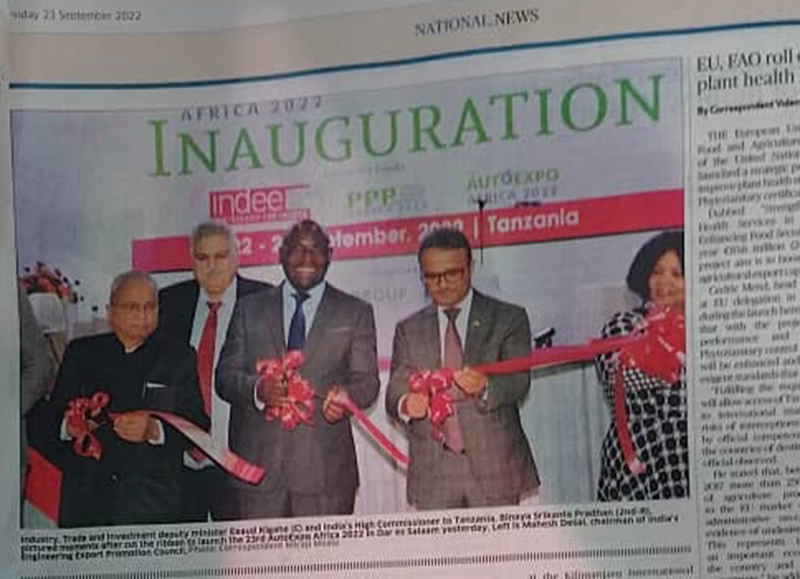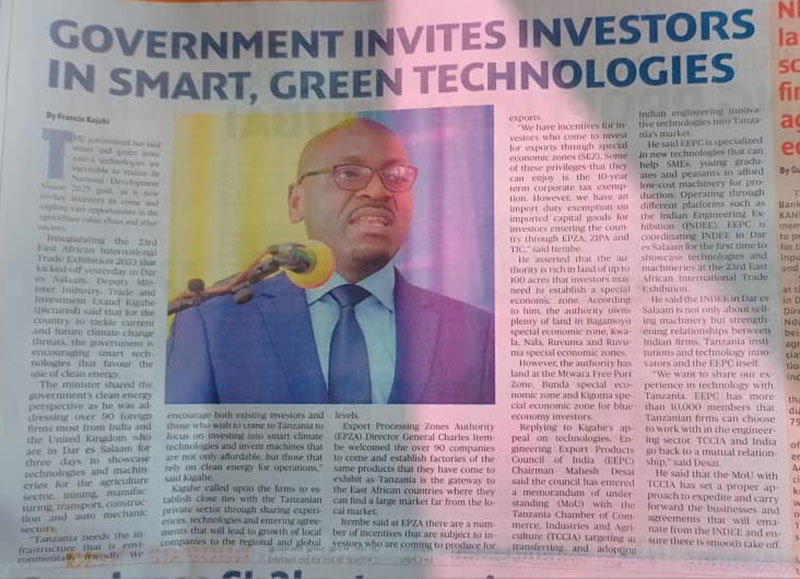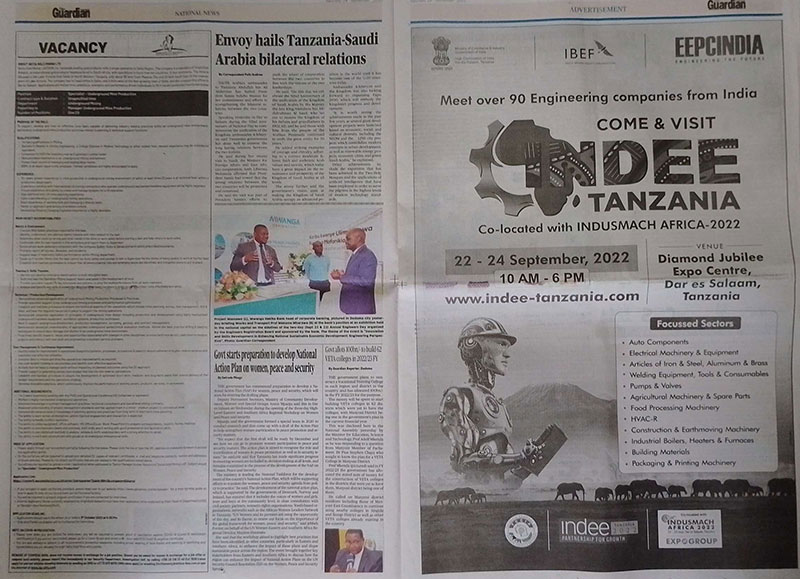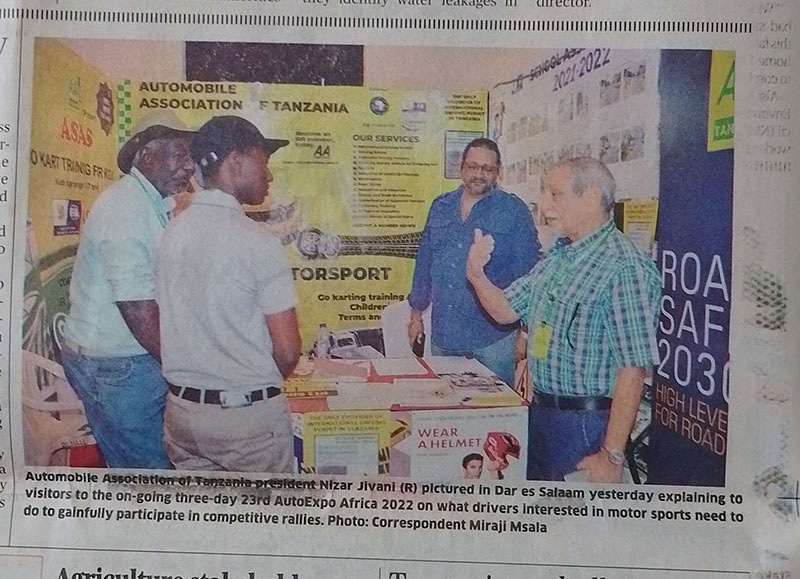 INDEE TANZANIA 2022 - Coverage on ITV Tanzania
Published on 23rd September, 2022
Media coverage on local NewsPaper
Published on 20th September, 2022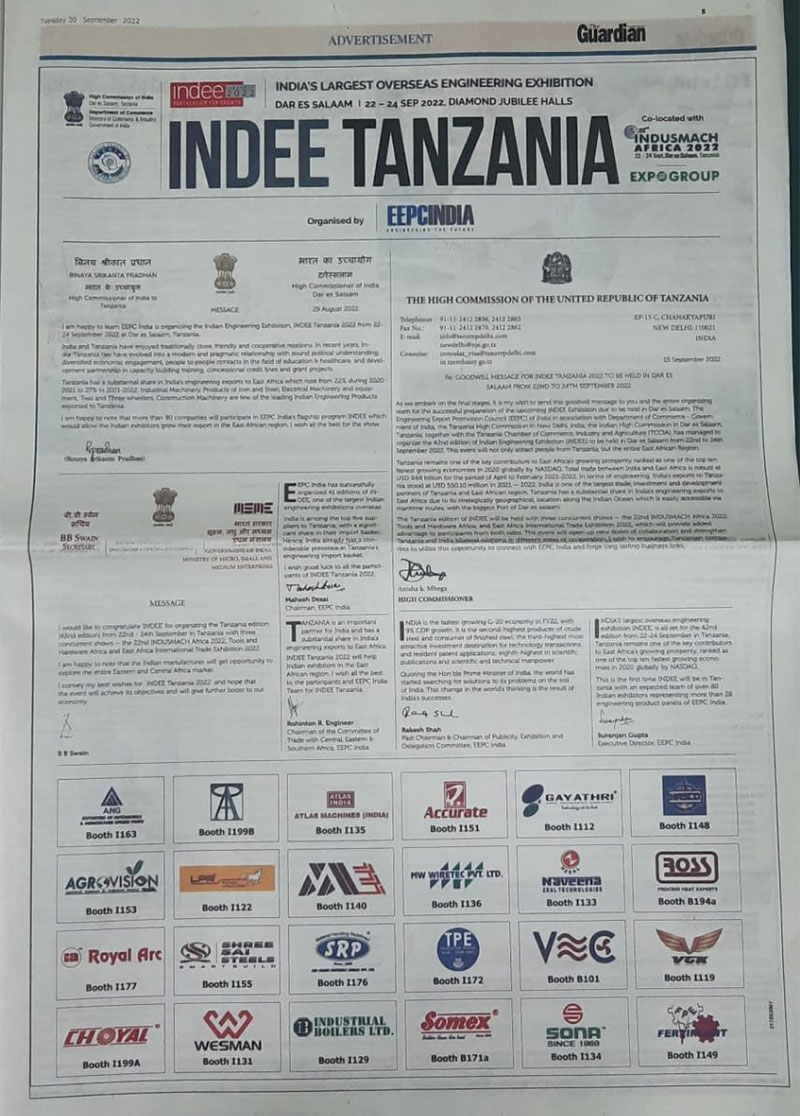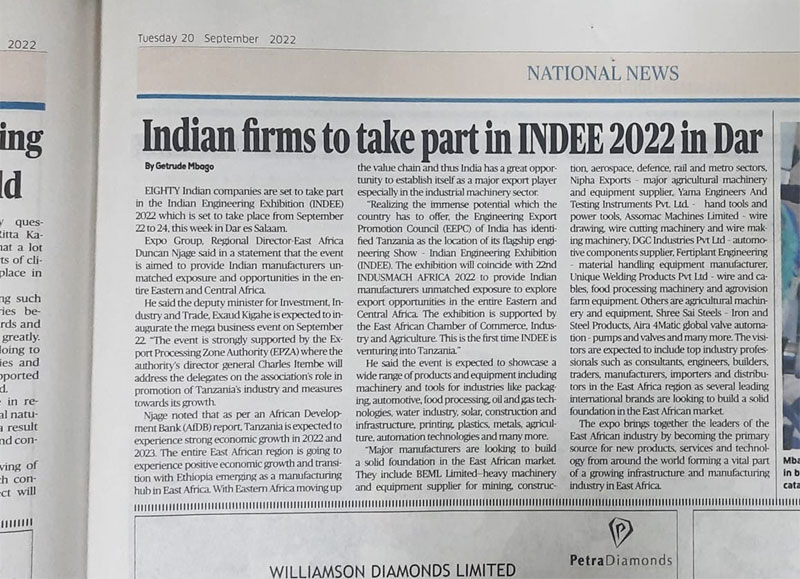 Indusmach - INDEE, Tanzania 2022
Published on 13th September, 2022
Over 80 Indian companies to present industrial and engineering products and machinery in Dar es Salaam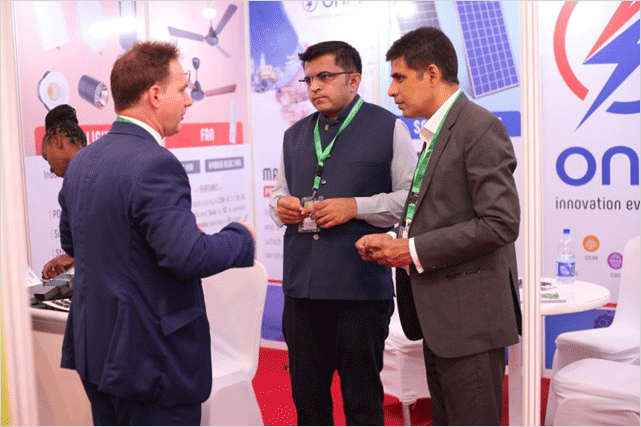 EEPC India as a part of INDEE Tanzania 2022 brings over 80 Indian companies presenting industrial and engineering products and machinery in Dar es Salaam.  The event coincides with the 22nd Indusmach 2022 international trade exhibition which is showcasing engineering products, tool, hardware, machinery and equipment for the East African market. The trade show will be held from 22nd to 24th September, 2022 in Dar es Salaam, Tanzania, at the famed Diamond Jubilee Hall. Hon. Exaud Silaoneka Kigahe (MP) - Deputy Minister for Investment, Industry and Trade, Government of Tanzania will inaugurate the mega business event at 11:00 AM on the 22nd of September which will be open from 10:00 AM to 6:00 PM throughout the exhibition days.  The event is strongly supported by EPZA (Export Processing Zone Authority) the Director General Mr Charles Itembe. will be addressing the delegates at the event on the association's role in promotion of Tanzania's industry and measures towards its growth.

Leading manufacturers and suppliers are bringing the latest technology specific to major industries in the region. The event is expected to showcase a wide range of products and equipment including machinery and tools for industries like packaging, automotive, food processing, oil and gas technologies, water industry, solar, construction and infrastructure, printing, plastics, metals, agriculture, automation technologies and many more. Major manufacturers include BEML Limited - Heavy Machinery And Equipment Supplier For Mining, Construction, Aerospace, Defence, Rail And Metro Sectors, Nipha Exports - Major Agricultural Machinery & Equipment Supplier, Yama Engineers And Testing Instruments Pvt. Ltd. - Hand Tools & Power Tools, Assomac Machines Limited - Wire Drawing, Wire Cutting Machinery & Wire Making Machinery, DGC Industries Pvt Ltd - Automotive Components Supplier, Fertiplant Engineering - Material Handling Equipment Manufacturer, Unique Welding Products Pvt Ltd - Wire & Cables, Food Processing Machinery, Agrovision Farm Equipment - Agricultural Machinery & Equipment, Shree Sai Steels - Iron & Steel Products, Aira 4Matic Global Valve Automation - Pumps & Valves and many more. The visitors are expected to include top industry professionals such as consultants, engineers, builders, traders, manufacturers, importers & distributors in the East Africa region as several leading international brands are looking to build a solid foundation in the East African market.
The expo brings together the leaders of the East African industry by becoming the primary source for new products, services and technology from around the world forming a vital part of a growing infrastructure and manufacturing industry in East Africa.
For any further assistance, please contact:
Jacinth Moses
Public Relations Manager
Email:
jacinth.m@expogr.com
Int'l: +971 43050755
Johnson Mkoka
Media Manager
Email:
johnson.m@expogr.com
Mobile: +255 652496767
EEPC India Sr. Joint Director Mr. Nishikant Jumde @ INDUSMACH AFRICA 2022
Published on 20th May, 2022
Media coverage on TV channel
Published on 9th November, 2019
Media coverage on TV channel
Published on 9th November, 2019
Media coverage on TV channel
Published on 9th November, 2019
Media coverage on local NewsPaper
Published on 8th November, 2019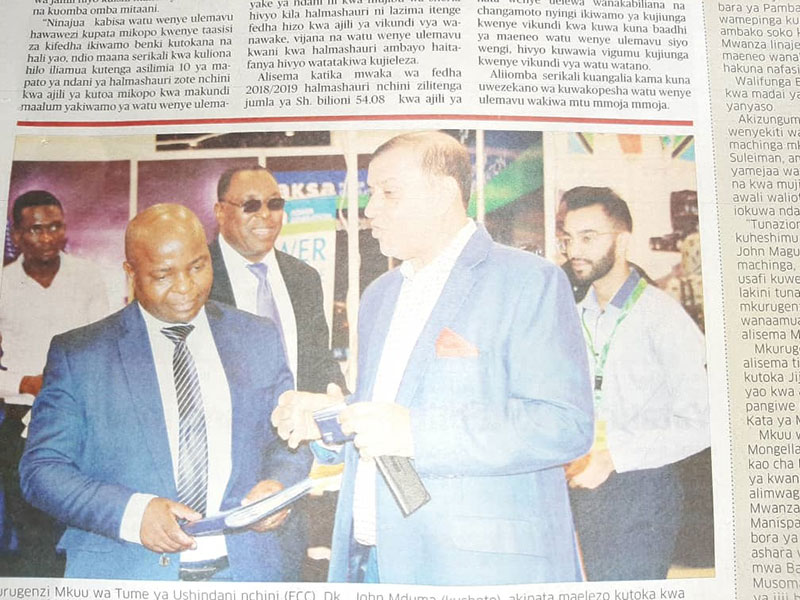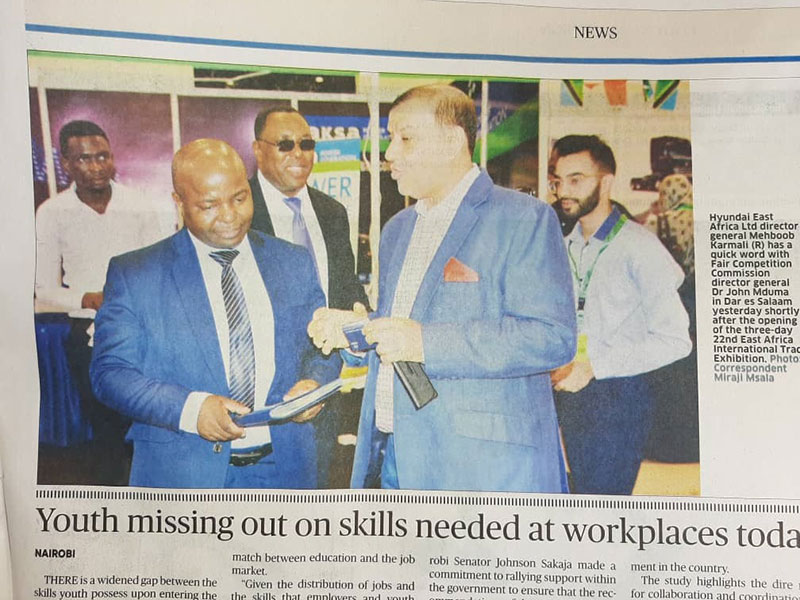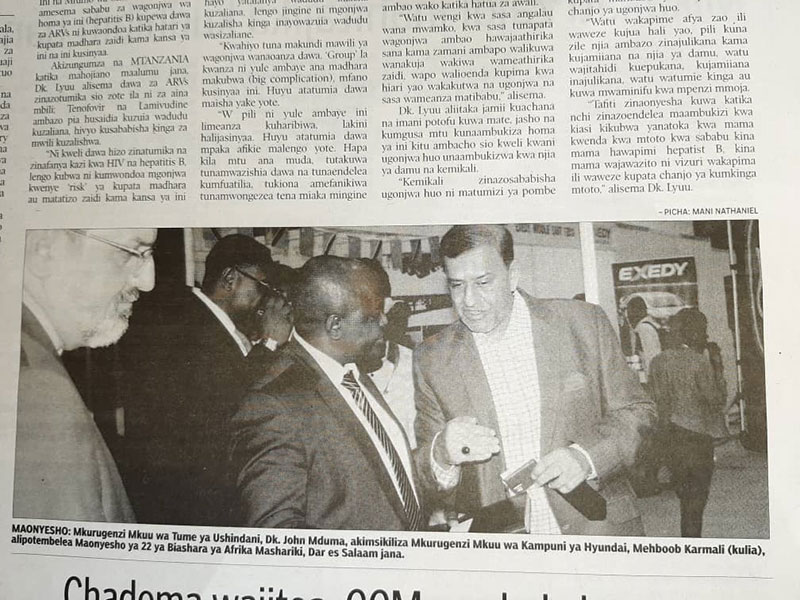 Event Advert on local NewsPaper
Published on 06th November, 2019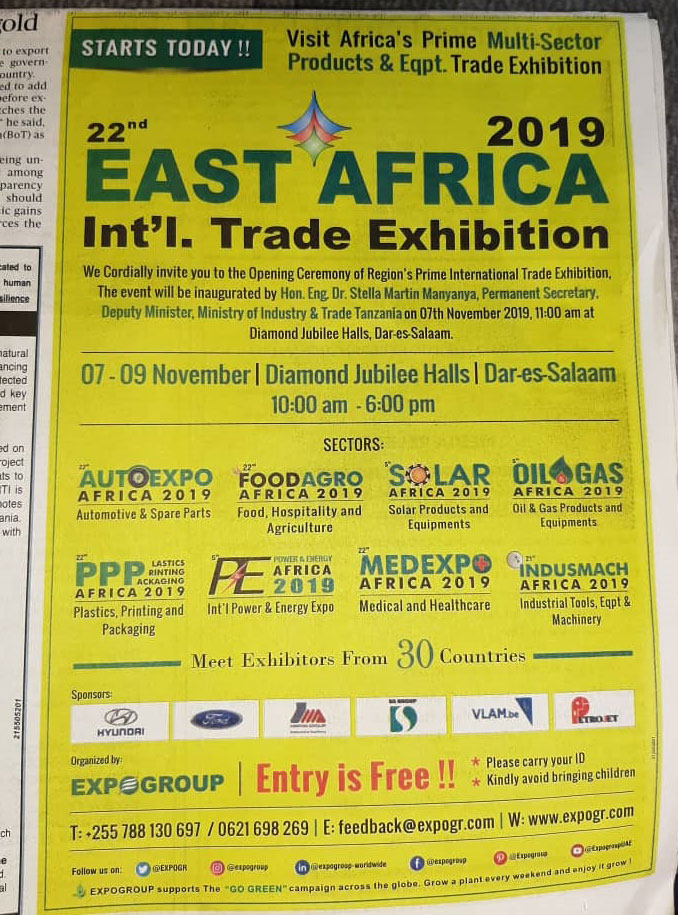 EVENT ADVERTISING - BILLBOARDS
Published on 27th September, 2019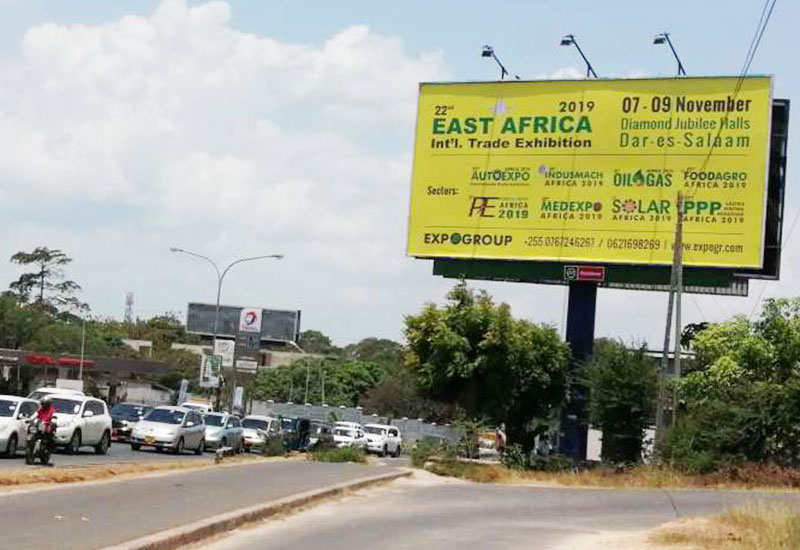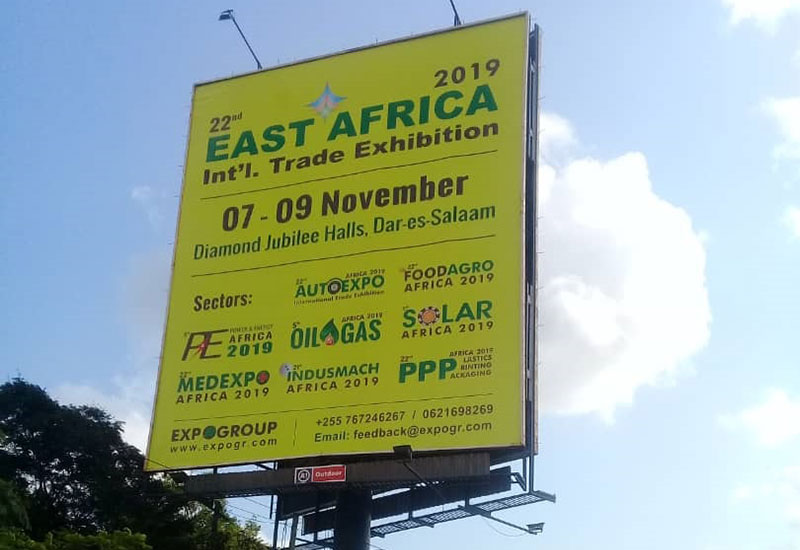 INDUSMACH 2017: The biggest gathering platform for Industrial, product, equipment & machinery in the East African Region
19th INDUSMACH is the only exhibition in East Africa region focusing on industrial equipment , products & machinery like Hand Tools, auxiliary products, generators, welding machines and compressors. It will open its doors in Dar-Es-Salaam, Tanzania at the Mlimani Conference Centre from the 12th - 14th July 2017
19th INDUSMACH has the ambition to be one of the most successful exhibition among the other well-known exhibitions worldwide. The 2015 edition gathered participants from China, Germany India, Turkey, Kenya, Tanzania, United Kingdom, Saudi Arabia and also national pavilions
INDUSMACH AFRICA 2017 is a mega industrial exhibition on industrial products, technologies, machinery and related services. 19th INDUSMACH will create a unique platform for the Industrial equipment, machinery & product manufacturers & exporters and the other market players and will attract visitor groups from a vast industry scope
INDUSMACH 2017 is expected to be a meeting platform for professional and visitors from several countries worldwide aswel as from all over Africa. INDUSMACH aims to create new business contacts and contracts internationally and domestically
INDUSMACH 2017 will be supported by many national and international trade media and industry associations in order to reach to a vast group of industry professionals.
Only at INDUSMACH visitors can experience complete value chains and swap information with experts from a complete spectrum of industrial sectors.With an amazing array of products and services from all over the world, it gives visitors the opportunity to source cutting edge products and services as well as learn about and discuss the latest market trends. There is no other related trade exhibition in East Africa that delivers the same quality & quantity and variety of buyers and distributors.
Indusmach 2017 targets distributors, suppliers, engineers and professionals from industries such as, machinery, tools, fasteners, hardware and various industrial products
Contributing to the success of INDUSMACH AFRICA is the dynamic environment in East Africa specially Kenya & Tanzania in which the show takes place. Over the last decade Africa's GDP grew by an average 5.5% per year. East Africa's booming manufacturing industries represent an important source of demand for Industrial Products & technology.. INDUSMACH AFRICA will provide your business with the opportunity to meet thousands of genuine major decision makers from the diverse and growing East African industry, along with national and international visitors. INDUSMACH brings together the best selection of products and technology that includes all segments of today's trends of global market. Fastener Fair
INDUSMACH 2017 covers a comprehensive range of Industrial Products & equipments including industrial fasteners, construction fixings, assembly and installation systems, hand tools manufacturing technology as well as storage, distribution and factory equipment.
For more details view:
www.indusmach.expogr.com
Email: