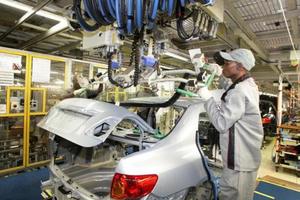 Posted on :Tuesday , 23rd April 2019
Kenya is planning to develop a policy that will boost motor vehicle exports to East African countries.
Mr. Stephen Odua the director of private sector development at the Ministry of Industry, Trade and Cooperatives told journalists in Nairobi that all relevant stakeholders are currently reviewing the national automotive policy.
The country's exports of automotive products to the East African Community bloc will increase from the current five percent of local production to 15 percent by 2022, once the new policy is implemented. This will help Kenya scale up local production of vehicles. "This was said by Odua during the national automotive policy validation workshop. Odua also said liberalization of the economy which allowed cheaper imported second-hand vehicles was slowing the growth of the local automotive industry over 85 percent of all cars registered annually are imports. By taking advantage of the African Continental Free Trade Area a robust local vehicle assembly sector will enable Kenya to increase exports to Africa.
Comprising of both imports and locally assembled automobiles Odua added that currently Kenya has over two million vehicles, in order to spur the manufacturing sector Kenya is keen to discourage importation of vehicles by a certain percent. Approximately 5,100 vehicles were assembled locally in Kenya in the year 2018 according to the government data.
Over the coming decade the automobile market in Kenya represents one of the biggest business opportunities and the political oligarchy assuming they follow both social and economic policies that favor a large development of pro capita income that could provide a good base for the middle class settlement that is rising in the nation. The extensive road network being rolled up in the country is much welcome especially tarmaking of such roads. While not delving on the cost it has taken to put up the roads, it does welcome the extensive road network in opening up the country and spurring economic growth.
A recent survey conducted shows that 900 individuals joined the millionaires club in 2018 and Kenya currently has 9, 400 of them, a rise from 8, 500 in 2016. Of these, two are worth USD 100m, ten are worth USD 30m (Sh3.6 billion), 30 of them worth USD 10m (Sh 1.2 billion) and 900 individuals are worth US D 1M (Sh102 million), (10.2billion), High Net Worth Individuals will be created in the next decade (2016-2026) is what their forecast indicates.
Above numbers clearly explain the increasing number of high end cars on Kenya roads such as the AMG G65,e class coupe, Mercedes Maybach , Range Rover Époque 2017 Panamera and Porsche Macan, among some of the top of the range models we see on a regular basis on our roads. When these Ultra High Net Worth Individuals are not in their private jets or choppers, they use the roads cursing in world class high end cars made by industry giants from some of the manufacturers mentioned above a boom for the automotive companies although the sales may be slightly far between one another.
The excise duty that they continue to pay is sometimes a bit heavy for the importers, whereas the government sees this as an avenue to get revenue through taxation.