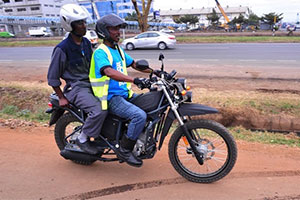 Posted on :Wednesday , 7th August 2019
A booming motorbike transport industry in Kenya has lifted economies of various rural and urban centers, with the machines imported mainly from China changing the destiny of many. Across rural Kenya, economies of most of the regions now whirl around the motorbikes.

It is a similar case in many urban areas where motorbikes have helped upgrade 24-hour economy and ease transportation of goods and people. Nahashon Kiarie is a motorbike taxi operator in Kitengela, a rapidly growing suburb on the south of Nairobi.

In rural areas, that the Chinese-made machines have transformed lives is evident. Most young people who ordinarily would have been idle and be lured to crime are now engaged in the motorbike transport industry.

Juma Otiato, a resident of Budalangi in Busia western Kenya, struggled to eke a living for years until he was employed as a motorbike taxi rider three years ago, was earning 3 dollars a day. His hard work and loyalty saw him buy a second-hand motorbike two months ago making him his own boss. "As long as you have a motorbike, you cannot lack food and other needs," he said.

The rise in the number of motorbikes which go for between 700 dollars and 1,000 dollars has created leads for spare parts sellers and repairers of the machines, with the shops dotting most rural trading centers.
Motorbikes has bcome the most bought motor vehicles in the east African nation, with new registrations standing at over 200,000 annually, as said by the Kenya National Bureau of Statistics.
Chinese motorcycles account for over 50 percent of Kenya's motorbike market, with the machines investing million dollars daily into the economy, according to Kenya Boda Boda Association.

The association notes its members drive huge fuel sales, each spending up to 5 dollars on fuel daily. Ernest Manuyo, a business lecturer at Pioneer Institute acknowledged that motorbikes have developed new economic statuses for regions and individuals.

There are close to a million motorbike taxis in Kenya, with each earning an average of 5 dollars a day. "That means up 5 million dollars is circulated into the economy a day. This is significant," he said.