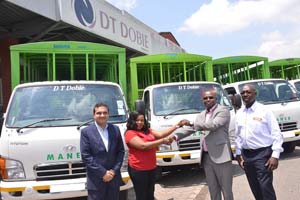 Posted on :Thursday , 26th November 2020
When a re-spray is required for cars, or SUVs that are treasured possessions, the owners want an excellent result to achieve a top-class finish. Some of these discerning drivers have become aware of the fine results obtained by the DT Dobie Body Shop for Mercedes Benz and Volkswagen owners.

In the past, this facility was confined to operating on Mercedes and Volkswagens, excluding other bands. In response to requests from the proud owners of several other manufacturers and models, the Company has opened the Body Shop to all vehicle owners who rely on high standards of painting.

Christine Maina, the facility manager, said All of us working here are very satisfied with the decision. We look forward to helping owners of every make in Kenya carry out full re-sprays, beginning with an evaluation of the vehicle's current condition and labelling all areas of concern such as teeth, bad paint and rust."

Then, we disassemble all the trims that include bumpers, door handles, window trims and rear view mirrors. Then comes the panel pounding, removing all bad quality paint and rust proofing followed by the preparation of a car for painting using a quality primer. After the planning is finished, the car is put in our spray booth where the paint mixing is done as per the colour code of the manufacturer. Two coats of paint and two clear coat applications offer a gloss finish.

The vehicle is then baked for 45 minutes, followed by polishing and assembly. This is achieved with great care to ensure that all clips and screws are mounted. The final step is in our valet bay, where the vehicle goes through a free valet cleaning service.

At DT Dobie Body Shop, we use high quality products on all of our cars. Our body fillers, primers and paints are certified by Mercedes Benz and Volkswagen, resulting in a high quality paint finish that follows the manufacturer's requirements.

In addition, DT Dobie provides computed body and frame jigging with requirements for all vehicle types.