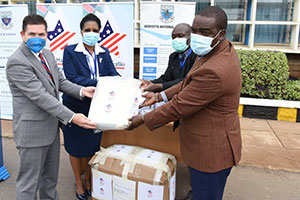 Posted on :Thursday , 30th July 2020
The United States is donating personal protective and hospital equipment valued at Ksh 7.9 Million to five hospitals in Nairobi, Mombasa, Kisumu, Siaya, and Nakuru in response to the COVID-19 pandemic.
Each hospital in Nairobi, Mombasa, Kisumu, Siaya, and Nakuru will receive N95 masks, surgical masks, coveralls, medical goggles, face shields, and pulse oximeters. This equipment, critical to patient care and protection of front-line health care workers, is funded by U.S. Africa Command (USAFRICOM) Overseas Humanitarian, Disaster and Civic Aid.
The five hospitals receiving the equipment have been at the forefront of diagnosing and caring for patients afflicted with the SARS-CoV-2 virus since the start of COVID-19 in Kenya 100+ days ago. The hospitals are Bondo Sub-County Referral Hospital (Siaya), Kenyatta National Hospital (Nairobi), Coast Provincial General Hospital (Mombasa), Jaramogi Oginga Odinga Teaching and Referral Hospital (Kisumu) and the Nakuru County Referral Hospital (Nakuru).
The United States donates more than any other country to help Kenya's health needs with over Ksh 60 billion every year, said Kyle McCarter, U.S. Ambassador to Kenya at a ceremony handing over equipment to Kenyatta National Hospital on July 2.
This Ksh 7.9 million donation of critically needed protective equipment is in addition to over Ksh 5 billion in support from the United States in the last three months alone directly for Kenya's response to and recovery from COVID-19. USA Marafiki means we are proud to help build the health care capacity of counties and to support Kenya's health care workers on the front lines of the battle against this virus.