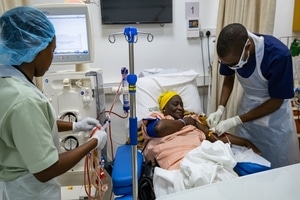 Posted on :Wednesday , 24th March 2021
M3, Inc., a medical Web portal headquartered in Tokyo, has announced that its multi-stage corporate venture fund 1P1Y will invest in Africa Health Holdings Ltd, which runs medical facilities in Ghana, Nigeria, and Kenya.
M3 will use this investment to improve the effectiveness and complexity of Africa Health's infrastructure, as well as to support its expansion plans. M3 will support Africa Health by leveraging its physician platform and services related to research, clinical trials, office appointment systems, hospital site operations management, telemedicine, and AI diagnostic tools.
The fund makes investments in seed and late-stage businesses, as well as publicly traded firms in the healthcare industry, was created in October 2019. Pharmaceuticals, medical devices, health management, and health-tech are examples of them. The fund has already made about a half-dozen investments, mainly in Japan.
Africa Health is the company's second overseas investment; in May, it backed Shape Memory Medical, an American cardiovascular medical device firm.
Incorporated in the Cayman Islands Sangu Delle is in charge of Africa Health. It has 38 hospital facilities in Ghana (Rabito Clinic group), Nigeria (CarePoint Hospitals group), and Kenya (Meridian Health Group). It also offers online medical services through its MyCareMobile telemedicine application. According to the company, it has treated over 510,000 patients.
The Japanese company runs m3.com, a specialized web portal for medical practitioners that provides healthcare-related information to more than 290,000 Japanese doctors as well as marketing and clinical trial services. It has recently extended into areas such as the development of AI-driven diagnostic tools, genome diagnostics, and stroke rehabilitation centers.
M3, which has a market capitalization of around US$53 billion, hasn't said how much it wants to spend. The fund, which has a market capitalization of around JPY 10 billion (US$93 million), is looking to spend up to US$19 million in a single firm. M3 has offices in the United States, the United Kingdom, France, China, South Korea, and India.
M3 uses 7P Projects to combine such companies and offer holistic solutions for various problems within individual therapeutic areas that go beyond pharmaceutical marketing.
M3 will use this capital alliance to improve the efficiency, complexity, and speed of expansion of AHH's medical facilities and digital technologies by developing medical solutions that encourage higher medical standards and greater access to medical care across Africa.
M3 will use its physician platform and services, including research, clinical trials, office appointment systems, medical site operations management, telemedicine, AI diagnostic tools, and more, to achieve these goals, as well as the knowledge gained from providing such services.