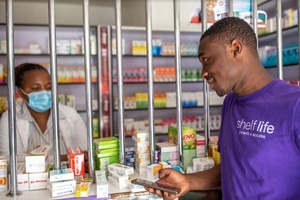 Posted on :Thursday , 29th July 2021
Field Intelligence, a Nigerian-based health tech firm that is digitising the supply chain and altering access to vital, life-saving drugs, has expanded its revolutionary pharmaceutical platform-Shelf Life- to Eldoret, Mombasa, Kisumu, and Naivasha in Kenya.
This addition complements Field Intelligence's current 700+ pharmacy membership, which has delivered medicines to over 1.4 million patients.
Pharmacies utilise the Shelf Life platform to provide medications through its Pay-As-You-Sell services, which is a less expensive alternative to obtaining working capital.
In Nigeria, the company has grown into the states of Rivers, Edo, Kaduna, Kano, Enugu, Delta, and Kwara.
The Shelf Life platform, which debuted in Nairobi in August 2018, enables independent and franchise pharmacies to access 1000 unique products, plan inventory, delivery subscriptions, and offer Pay-As-You-Sell services.
Shelf Life membership has increased by 65 percent in Kenya, with pharmacies in both nations selling more than 586,950 goods across 63 product categories on the Shelf Life platform.
Contraception, anti-malaria medications and vitamins, cold and cough treatments, and personal protective equipment (PPE) are among the items accessible on the site.
According to available data, Nigeria has 4,500 registered pharmacies and more than 15,000 drugstores, whereas Kenya has 6,000 registered pharmacies and chemists.
By 2022, Field Intelligence hopes to have surpassed 2,000 pharmacies and drugstores utilising Shelf Life, with 12,000 pharmacies on its network by 2025, four times larger than GouDam-the Chinese pharmacy chain, the world's largest pharmacy chain.
Despite recent significant global shortages, Field Intelligence has satisfied the demand for prescription and over-the-counter medications in many regions by using data to optimise projections and discover market anomalies.
Field Intelligence predicts a revenue volume of over US$1.3 billion in Nigeria by 2025, with a 22.31 percent annual growth rate, compared to a 19.97 percent annual growth rate in Kenya and a market volume of US$649.73 million.
According to Michael Moreland, CEO of Field Intelligence, Shelf Life's quick adoption demonstrates its potential as a solution for pharmacies across Africa.
This growth comes a year after the firm witnessed fast sales and Shelf Life membership memberships, with sales increasing by 47 percent in Nigeria and 65 percent in Kenya, selling over 586,950 goods across 63 product categories.
"In 2017, we created Shelf Life to enable pharmacies to outsource their supply chain to us. And it just kind of developed organically from there," said Co-founder and CEO Michael Moreland.
"As we grew, we extended to Lagos and then to Nairobi to test if it would work in East Africa in that setting, and it did. Since then, we haven't looked back. The private pharmacy sector is where the company's future lies."