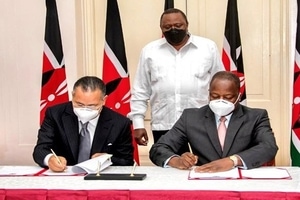 Posted on :Thursday , 29th July 2021
During the pandemic time, Kenya's competence in telemedicine in Africa is gaining traction, with more relationships with global firms being seen.
The latest in a nation regarded as the continent's most promising e-health industry is an agreement inked by the Kenyan government with Italy's largest private hospital company Gruppo San Donato (GSD) and Italian medical university Vita-Salute San Raffaele University.
The cooperation aims to improve access to medical care, diagnosis, and treatment by constructing modern hospitals and telemedicine systems.
A Memorandum of Understanding was signed in the presence of the Italian Ambassador to Kenya, Alberto Pieri, between GSD, represented by Vice President Kamel Ghribi, Prof Gianvito Martino, Vice Rector for Research at Vita-Salute San Raffaele University, and the Kenyan government, represented by Health Cabinet Secretary Mutahi Kagwe.
The Memorandum of Understanding pertains to a collaboration between the Italian hospital, Vita - Salute San Raffaele University, and the Kenyan Ministry of Health to improve the local e-health sector.
According to Mr. Ghribi, universal health care in Africa necessitates regional health centres, which may then become major geo-strategic health centres on the continent.
"To do this, we need greater networks of health collaboration. The deal between Italy and Kenya represents a long-term commitment to a better future and universal healthcare," he stated.
The collaboration intends to eventually give enhanced support and quality services to Kenya's urban and rural populations, with a long-term objective of ensuring universal healthcare in Kenya.
Thanks to faster and more inexpensive internet, telemedicine adoption in Kenya began in 2015 and has since evolved to include over 60 applications that provide health-related solutions via videoconferencing.
The Group San Donato, Vita-Salute San Raffaele University, and the Kenyan government will collaborate on the creation and support of the Kenyan national strategy for mental health, which will involve the establishment of a facility in Nairobi.
"Kenya and GSD will work together to do research and implement mental health solutions. Our goal is to spread the idea of family health across the public. Kenyans are entitled to high-quality healthcare," Mr. Kagwe said.