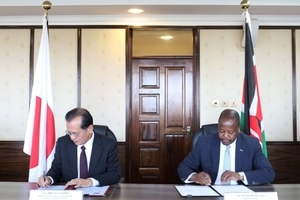 Posted on :Tuesday , 11th January 2022
Under the Africa Health and Wellbeing Initiative, Horie Ryoichi, Ambassador of Japan to Kenya, and Hon. Mutahi Kagwe, Cabinet Secretary for Health, Ministry of Health of Kenya, signed a Memorandum of Cooperation (MoC) between the Office of Healthcare Policy, the Cabinet Secretariat of Japan, the Ministry of Health, Labour and Welfare of Japan, and the Ministry of Health of the Republic of Kenya in the fields of Healthcare and Wellness. The MoC was also highlighted as an excellent example of how to build public-private partnerships for development at the 2nd Japan-Africa Public-Private Economic Forum.
Amb. Horie stated his hope that the MoC will be a fantastic example of how we can work together to achieve our common goals, and that it will strengthen and expand Japan-Kenya cooperation in the health sector.The Ambassador concluded his remarks by promising that Japan will continue to work with Kenya on a bilateral and multilateral basis to strengthen the country's public health system and services.
This initiative aims to create a mechanism to create vibrant and healthy societies for long and productive lives by enriching necessary healthcare services, including business-based approaches, and creating a virtuous cycle for economic growth and healthcare service enhancement, as well as to identify concrete approaches for healthcare collaboration. The effort is also intended to contribute to the achievement of universal health coverage, which Kenya's government is aiming for as part of its "BIG 4" agenda.
The signing event was attended by Kenyan officials from the Ministry of Foreign Affairs and Kenyan officials from the Ministry of Health.