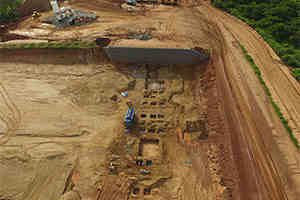 Posted on :Tuesday , 26th July 2022
The first production blast was successfully finished at the end of June, according to ASX-listed Walkabout Resources, and mining of the pit has since commenced. The ore will be accumulated for use in the processing plant's commissioning.
'The start of the first high-grade, large flake stockpile of responsibly sourced graphite in Tanzania, as well as the first blast and mining of the beginning pit, mark a new chapter in the development of the Lindi Jumbo graphite mine and for Tanzania,' according to CEO Andrew Cunningham.
"Our earthmoving contractor TNR, as well as our Lindi Jumbo team on site, put in a lot of work and experience to conduct the initial blast in a safe and regulated operation. It was a proud occasion for everyone involved."
The building of the tailings storage facility is nearly finished, and civil construction at the processing plant is 83 percent finished.
According to a partnership with the Tanzanian Electrical Supply Company, the Lindi Jumbo project will be connected to the grid through two lines, and the construction of a 33 kV powerline that runs to the project site is currently complete. Grid power will be accessible to enable the completion of building tasks once the transformer has been erected.
A 4.5 MW powerline is also being installed; once it is finished, the line will provide continuous power for the entire operation once commissioning begins.
The Lindi Jumbo project is anticipated to yield 40 000 t/y of graphite concentrate over the course of its 24-year mine life.