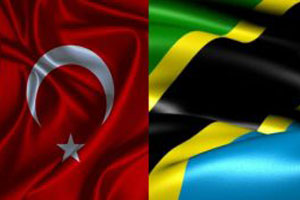 Posted on :Thursday , 27th July 2017
TANZANIA and Turkey business people are expecting to meet this Thursday to discuss how the two countries could extend business ties.
The one-day forum came merely seven months since Turkey President Recep Erdogan made a state visit in the country and signed various Memorandums of Understanding (MoU).
Tanzania Private Sectors Foundation (TPSF)Executive Director, Godfrey Simbeye said the objective of the forum was to foster economic and business relations between the two countries.
"During the forum, there will be an opportunity for business networking and business match-making between Turkish and the Tanzanian companies," he added. TPSF urged the country's business community to capitalize on the forum opportunity, a potential for local businesses and strong possibility for joint ventures between Turkey and Tanzania.
"We expect that during this forum over 200 business people will participate and thus extending the broader business network in various sectors," said Mr Simbeye.
The Commercial counselor at the Turkish Embassy in Dar es Salaam, Mr Onur Tekyildiz, said the business relationship between Turkey and Tanzania was still growing to an extent that business opportunities were largely increasing.
During his state visit in January, the Turkish President signed a MoU between TPSF and Foreign Economic Relations Board of Turkey (DEIC). The MoU, according to Mr Simbeye, was yet another platform for the private sector in the country to create business and investment opportunities for both local businesses and foreign investors.
The Tanzania-Turkey business dropped by 22 percent last year but since President Erdogan's visit the business grew by 30 percent.
The Forum will focus on the sectors of electronics, agricultural machinery, iron and metal products, textile, raw material, chemical substances, automotive and spare parts, cement, ceramics, construction materials, building materials, machinery and accessories, hospital furniture, food production, and medical devices, among others.