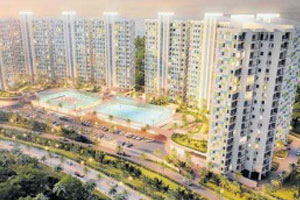 Posted on :Thursday , 27th July 2017
In what can be described as a major boost, the National Housing Corporation (NHC) has secured a $2 billion (Sh4.5 trillion) loan from PTA Bank -- the financial arm of Comesa -- to construct a commercial centre and satellite city at Kawe in Dar es Salaam.
This was revealed by the director general of NHC, Mr Nahemia Mchechu, yesterday.
Addressing councillors from Kinondoni Municipality who toured the project site that comprises the premises of defunct Tanganyika Packers, Mr Mchechu said with funds secured, the project is scheduled to be completed by 2020.
Owned by Comesa, the PTA Bank is open to non-Comesa states like Tanzania. "The process of building the centre is geared up as we are going on smoothly with construction.
When the project is completed it is going to be the busiest centre in this city, hosting at least 50,000 people for 20 hours non-stop," he said.
According to him, at the moment, the busiest commercial centre of Kariakoo with nine hours working time does not host such a huge gathering of business operators.
"Our aspiration of shifting magnet of greatest business activities from Kariakoo to Kawe is getting closer," said the NHC boss.
He also said they have already prepared the masterplan for the envisaged satellite town of Kawe which will attract huge investments in air transport through construction of helipads, rapid bus transport lanes and yachting marinas.
"Dar es Salaam City, which generates 60 per cent of the national income is set to remain in upper hand for revenue generation after the satellite city becomes operational," he said.
The chairman of the urban planning committee for Kinondoni Municipal Council, Mr Songora Mnyonge, said the project would help a great deal in decongesting Kariakoo, because it is set to host the biggest shopping mall, residences, shopping centres as well as recreation and sports centres.
"We are happy to hear that Kinondoni is poised to be the biggest generator of revenue through this project. We will continue to attract many investors for this purpose," said Mr Mnyonge adding, "I advise Kinondoni residents to get prepared for this big project, especially embarking on innovative business venture as the municipality is set to become the biggest business hub of Dar es Salaam," he said.
The councilors and members of the press also visited the Morocco Square, another NHC real estate project which is under construction.
NHC project manager Samwel Metili said the Morocco Square, which will host a modern hotel, tourist accommodations, shopping and recreation facilities, is worth of Sh157.5 billion.
In March last year, a report released at the 11th Confederation of Indian Industry (CII) - Export Import Bank of India (Exim Bank) Conclave on India-Africa Project Partnership showed that at least Sh22 trillion was sought for 22 other projects.
The money was sought from Exim Bank of India, the Government of India's other own sources as well as from investors in the Asian nation through their CII. This is done in the hope that certain projects can be implemented.