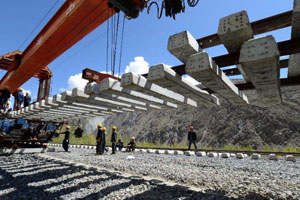 Posted on :Monday , 9th October 2017
Turkish Firm Yapi Merkezi Insaat VE Sanayi is the project contractor for a high-speed electric railway line and will undertake all designing and construction activities.
The Turkish company is a renowned, privately owned firm of great repute in rail engineering, manufacture, design, and construction.
RAHCO confirmed that Yapi Merkezi was picked to head the project after meeting all technical and financial requirements, standing out from a pool of fifteen contractors who all submitted bids to RAHCO.
An estimated 17 million tons of cargo annually and 35 axle load capacity will be transported on the new railway line.
An official statement also read that the trains will be moving at a speed of 160 kilometers per hour.
Yapi Merkezi was founded back in 1965 and has been prolific of late at winning big rail construction contracts as is evident in their recent exploits in Ethiopia and now with this project.
The new gauge system will be a direct replacement for the old narrow gauge system, which was introduced 112 years back.
The Company also successfully nabbed a 1.22 billion dollar joint venture along with a Portuguese company to construct a 300 kilometer SGR line linking the port of Dar es Salaam to Morogoro.
The government is rumored to fund the Morogoro-Makutupora line themselves, with no official announcements on the issue made yet.
Masanja Kadogosa, the acting managing director of RAHCO, however, did announce that the project is expected to be wrapped up within a 36 month time period.
The project is expected to comprise of 336 kilometers of the main railway line, 86km of an interchange rail, eight passenger stations, and six cargo stations, according to Kadogosa.
The Minister for Works, Transport, and Communication, Makame Mbarawa also urged the Turkish firm to accelerate the construction.
"We have asked the contractor to shorten the duration of the construction period as much as possible," he said.
RAHCO also announced that their open to bids for another three tenders in the upcoming months for the construction of a 700-kilometer highway.
The government also expects to allot US $14.2 billion over the course of five years to a string of projects to build a 2,561-kilometer standard gauge railway network that will connect Tanzania's main port of Dar es Salaam to the Eastern and Southern African hinterland.
Dar es Salaam is of great financial importance to the neighboring land-locked nations of Democratic Republic of the Congo (DRC), Zambia, Rwanda, Burundi, and Uganda.