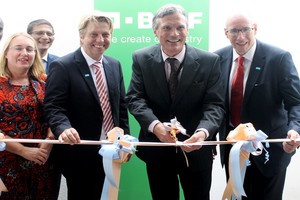 Posted on :Wednesday , 22nd August 2018
In a significant indication of the investment potential of Tanzania, he world's largest chemical company, BASF Group opened a new office in Dar es Salaam to support planned growth within the country.
BASF sources explained during the opening that their presence in the country will allow them to respond to challenges arising from the competitive conditions in the market, while also extending their reach to more customers. Part of the company's growth strategy in Africa is to invest in a local presence and local production, the evidence of this can be see in the recent move to also establish offices in Zambia, Ivory Coast and Kenya.
Days after the BASF Tanzania launch, Japanese industrial giant - Mitsubishi Corporation also announced that it is ready to invest in the country. Mitsubishi General Manager Africa Daisuke Aoki said that Tanzania offers many opportunities which cannot be ignored due to the strategic location and the resilient market.
News of these recent commitments by major German and Japanese industrial organisations is a positive development and reinforces the local market leaders strategy of securing long-term sales and funding partners in these key European and Asian markets.