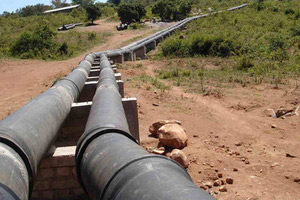 Posted on :Wednesday , 22nd August 2018
In a significant development a contract between the Tanga Urban Water and Sanitation Authority (Tanga Uwasa) and Juin Company Ltd. for the rehabilitation of the Lushoto Town water infrastructure to ease water supply was signed. The project, is aimed at easing the supply of water in the district, and will be constructed to the tune of US $341,000 and is expected to take 8 months to be complete.
Tanga Water Utility Company, Acting Managing Director of the Engineer Fares Aram, says the project will involve rehabilitation of the water system, laying of pipes as well as construction of a water tank.
Member of Parliament for Lushoto Constituency, Mr Shaaban Shekilindi in a public statement thanked President John Magufuli for heeding calls of Lushoto residents and approving funds for the project.
Managing Director of Juin Construction Company, Engineer Justice Kato, announced that his company, has all the necessary support that is needed to carry out the work.
Tanga UWASA, whose primary role was to provide water services to the Tanga City, will be responsible for overseeing water projects at the Bumbuli District Council in Lushoto District, Mombo Township in Korogwe District and Kilindi district. It will will also monitor the implementation of the US $1.14m proposed water project that would draw water from East Usambara Mountains to Muheza District Headquarters and villages alongside the project. Currently, the authority is ngaged in implementing an over US $176,000 water pipeline laying project that would connect water users in the water distressed Muheza Township to main Tanga City water network.