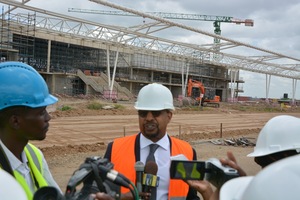 Posted on :Tuesday , 30th April 2019
Construction works on Julius Nyerere International Airport terminal 3 has been announced by the government of Tanzania that it is nearing completion. With only final touches remaining before being handed over to the government for operations. Works, Transport and Communications Minister Isack Kamwelwe announced that the project is 96% complete.
The construction began with JNIA Terminal 1 which has a capacity to handle 500,000 passengers a year. Construction of terminal two followed and boosted the handling capacity to 1.5 million passengers. Construction of terminal 3 was slated for completion in 2018 but extended to 2019. Terminal 3 is projected to further increase the handling capacity to up to 6 million passengers a year.
The time needed to complete the project has been extended due to various challenges including availability of quality construction materials which are currently bought from abroad. The time taken to move from one phase to another also affected the project and additional time is needed for the materials to arrive in the country.
A total of USD 283 million was budgeted to be spend on the terminal. However, the project costs increased by 34 milliom USD as a result of changes to the original design, as well as changes to the extant taxation regime and employment legislation. The project is being executed by international contractors. Julius Nyerere Airport, located 12km from the city centre, has flights to destinations across Africa, Europe and the Middle East. It was named after Tanzania's first democratic President Julius Nyerere.
Vice-Chairperson, Ms Gemma Modu of the Engineers Registration Board (ERB) further clarified that the project is 70% complete with total completion of the project expected in May 2019. Initially, the project had been planned for commissioning in December 2018, but challenges to do with importation of quality construction material led to the opening date being pushed to 2019.
While addressing the media in Dar-es-Salaam during the ERB team project tour to assess the progress, Ms Modu pointed out challenges and achievements of the project. The cost of the project will now be USD 37.3 million more than the initial cost of US $249.2 million.according to ERB Quantity Surveyor and Board Director, Samuel Marwa, construction cost of the project has risen as a result of the delay.