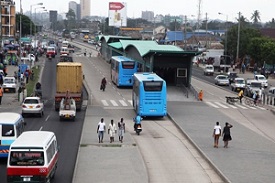 Posted on :Monday , 17th June 2019
Successful demonstration of BRT was done by Dar es Salaam, which is the first city to launch a BRT system in East Africa. After the completion of the first phase of the 21 Km BRT in the Dar Es Salaam which includes five terminals, seven feeders, 27 stations and three connector stations. Currently, around 140 buses are running daily on their special lanes. On the same lines the national treasury of Kenya has allocated around USD 54 million for the construction of high capacity special lanes to reduce the high congestion in its street.
The onset of this funding will make it easier for Kenya to boost the construction of Bus Rapid Transit System and buy high capacity buses from South Africa. Moreover, the estimated budget of Urban and Metropolitan development for the current year has also increased from USD 186 million to USD 241 million on account of BRT. For the efficient management of these high capacity lanes and convenient transportation, Kenyan authorities are planning to put overhead pedestrian crossings at every kilometre.
This special lane will include mainlands and high traffic routes such as Haile Selassie Avenue, Kenyatta Avenue, Moi Avenue and University way in the city centre. It also includes outer roads such as Jogoo Road, Mombasa Road, Thika Road and Outer Ring Road. The rapid increase in the number of cars across the Kenyan streets has made it difficult for efficient transportation of buses, which has raised the special need of lanes for high capacity buses.
On completion of the project, Kenya will have high capacity buses which carry 160 passengers with the feasibility of card payment.