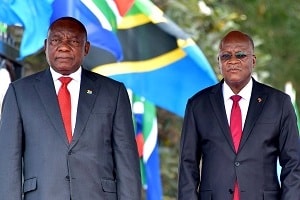 Posted on :Monday , 19th August 2019
South Africa's President Cyril Ramaphosa welcomed by John Magufuli, the President of Tanzania during his visit to Dar es Salaam. This was the first official visit of the South African President to Tanzania after being elected in May. The two presidents discussed many bilateral issues between the countries and signed agreement under many sectors for the advancement of trade, investment, energy cooperation and infrastructure development between these countries.
Ramaphosa told that South Africa and Tanzania both have a lot of business opportunities and they are going to explore possible areas for better cooperation. On the other hand, President Magufuli is inviting investors with open arms to come and invest in Tanzania. Both the president is firmly encouraging their respective business communities to take the full use of existing opportunities so to increase the trade and investment initiatives.
Currently, there are 208 South African businesses operating in Tanzania, which is employing around 21,000 people. President Magufuli appreciates the number and further invite more South African business to invest in Tanzania. In responding to Tanzanian president, Ramaphosa told that they also want several Tanzanian businesses to invest in South Africa and extend the number of products so they can buy more from Tanzania.
Apart from bilateral trade, both the head of states agreed to continue to share the perspective in the multilateral matters such as global stability, peace and other issues. Tanzania is going to take the chairmanship in the Southern Africa Development Community, the biggest summit for the development of Southern Africa hosting in Dar es Salaam in a few days. In context to SADC, Summit Ramaphosa reaffirmed that they are going to support Tanzania president and committed to working together in the pursuit of sustainable stability, security, peace and enhance greater economic integration.