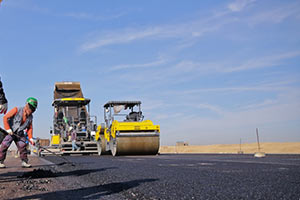 Posted on :Wednesday , 29th September 2021
The government has approved a total of 1.93 billion in the fiscal year 2021/22 for the construction and rehabilitation of roads around mountains totalling 82.1 kilometres in length, according to Mr David Silinde, Deputy Minister of State in the President's Office (Regional Administration and Local Government).
According to him, the funds would be utilised to build 22.3 kilometres of gravel-level lower belt roads, one bridge, 63 culverts, and 8 kilometres of drainage canals.
He informed the National Assembly that six kilometres of hilly routes will be designed for tarmac construction. The roads were identified by the Deputy Minister as Leganga Mulala (2 kilometres), Police Magarisho (2 kilometres), and Sangisi - Ndoombo (2 kilometres) (2 km).
According to the Deputy Minister, the government spent a total of 1.38 Billion in the fiscal year 2020/21 to repair different roads, including the building of a 1.9-kilometre tarmac road between Sangisi and Nambala.
Other roads are Maji ya Chai - Sakila (3km), Police - Ngurdoto (3.5km), Mji Mwema - Dispensary (0.5km), Leganga - Ngarasero (0.8km), Kisimiri Secondary (4km), Ngarenanyuki - Ngabobo (2.5km), Ubungo - Irrikolanumbe (2.6km), Sangisi - Ndoo (2km).
'Depending on the availability of money, the government would continue to give funding for the building of asphalt road highways in the Arumeru East Mountains,' he stated in answer to a query from Dr. John Palangyo (Arumeru East-CCM).
The Member of Parliament wanted to know when the government will build tarmac level roads around the Arumeru East Mountains to make it easier for residents to access services.
According to the MP, the building of these roads would help decrease the cost of regular maintenance of such roads, which are now high owing to topographical concerns involved.