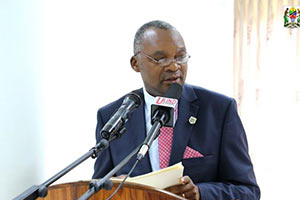 Posted on :Friday , 24th December 2021

Tanzania's quick surge in building activity is undoubtedly a great sight to see as the country's infrastructural development has expanded.
Tanzania's building industry has experienced rapid expansion in the last six months, which has had a knock-on impact on the average person.
In a news conference, Deputy Minister for Works, Transport, and Communication, Elias Kwandikwa, stated that increased construction finance has a direct and indirect influence on ordinary individuals.
According to Kwandikwa, "the increase in finance indicates the growing number of small and major building projects that have offered growth prospects for the public."
According to the Bank of Tanzania (BoT), the construction industry leads in economic activity, with the highest yearly credit growth obtained from commercial banks from January to June.
It is crucial to highlight that such funding in the industry has benefited cement, metals, roofing, and interior designers, since various projects are now ongoing.
It has also increased the country's products exports as a result of the shipment of building and construction materials to support ongoing infrastructure projects.
The minister claimed that when more projects are built, the industry's contribution to the national economy will climb to 14 percent.