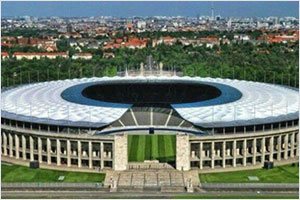 Posted on :Wednesday , 21st September 2022
Pauline Gekul, the deputy minister for culture, arts, and sports, revealed that the government was ready to begin construction of the proposed Dodoma Stadium. Gekul made the revelation while responding to a question from Innocent Kalogeris, the MP for Morogoro South, in Dodoma.
The Deputy Minister stated that currently, the government is looking for funding for the projects and that soon construction will begin. According to Gekul, the Dodoma Stadium project is inevitable. This she explained is because it is in the manifesto of the ruling party. Additionally, she said it is a key facility for the capital city.
The project has been widely discussed. Many people want to know when it will officially commence.
Project Overview
Dodoma stadium in Tanzania is expected to be the largest stadium in Africa. It was proposed in 2017 after the Moroccan King's visit to Tanzania. Reportedly the stadium will be built at an estimated cost of US $100m.
The facility will be strategically situated in the Nanenane area along Dodoma- Morogoro highway. This will make it visible to all passersby plying the proposed ring roads that will be running around the stadium. Travelers using the Standard Gauge Railway (SGR) network which is close to the structure will also be in a position to enjoy views of the development.
The architectural design of the structure resembles the iconic Mt. Kilimanjaro, the tallest mountain in Africa, from the outside. According to Patrick Mfugale the proposed mega stadium will have the capacity to accommodate between 85, 000 to 100, 000 spectators. Mfugale is the Chief Executive Officer (CEO) of the Tanzania National Roads Agency (Tanroads).
Dodoma stadium to exceed First National Bank (FNB) Stadium capacity
The capacity of the Dodoma stadium exceeds that of the First National Bank (FNB) Stadium, currently the largest stadium in Africa. Reportedly, FNB can accommodate 94,736 spectators. For this reason, Dodoma Stadium is anticipated to take over FNB's crown.
The FNB Stadium, AKA Soccer City or The Calabash, is located in Nasrec, bordering the Soweto area of Johannesburg, South Africa. The Calabash name is a result of the stadium's design which was inspired by a Calabash. The latter is an African artifact made from the hard shell of a fruit in the gourd family "Lagenaria siceraria" by drying and hallowing it out.
This initiative comes at a time when the government is pushing for a massive transfer of people and services from Dar es Salaam to Dodoma. The initiative will reportedly help improve the whole sport sector majorly soccer in the region.
In addition, the new stadium will put Tanzania in a better position to bid for hosting major continental events. These events include the Africa Cup of Nations (AFCON) and the African Canadian Soccer & Cultural Association (ACSCA). The stadium will also be able to host other top athletics events such as the All African Games and World Athletics championships.