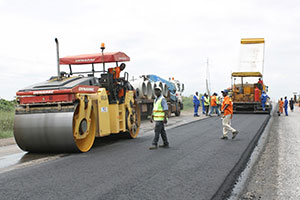 Posted on :Monday , 28th November 2022

Roads of 103.5 kilometres will be built on the islands of Unguja and Pemba.

The Zanzibar government has signed a road development contract with Propav, a UK business, in collaboration with Mwananchi Engineering and Construction Ltd, a Tanzanian company (MECCO). The contract calls for the construction of three highways totaling 103.5 kilometres on Unguja and Pemba Islands.

On September 20, 2022, the signing ceremony took place at the offices of the Zanzibar Ministry of Infrastructure, Communications, and Transport. The arrangement was signed on behalf of the Zanzibar government by Khadija Khamis Rajab, the Ministry's Principal Secretary. Propav was represented by Leandro Motta, Director of Infrastructure, and Nasser Sheikh, Director of MECCO.

The contract is worth €230 million (approximately TSh537.8 billion). The British government will fund the project through UKEF (United Kingdom Export Finance).

The roads to be built under the contract are as follows:
Chakechake-Mkoani in Pemba Region, totaling 43.5 kilometres.
Tunguu-Makunduchi, a 48-kilometer stretch in Unguja South Region.
Kisauni-Fumba, a 12-kilometer stretch in the West Urban Region.

The roadways will feature four lanes in each direction, two in each direction. Street lighting and pedestrian lanes will also be included in the project.

The project's approval, according to Dr. Khalid Salum Mohammed, Minister of Infrastructure, Communications, and Transport was the result of collaboration between the governments of Tanzania, Zanzibar, and the contractors in charge of securing financing—with the loan falling entirely under the purview of Tanzania.

Dr. Mohammed added, "We thank President Samia Suluhu Hassan and Dr. Hussein Mwinyi for their advice and for making sure that finances are available."

Additionally, the minister urged the public to support the project and assist with the construction work that would shortly get underway. He reassured them that compensation will be given to those whose homes were affected by the building. The project should be finished in 36 months.

Leandro Motta thanked the government for giving them the job of building the road, and he promised to do it on schedule, in accordance with the requirements of the contract, and to the best of his ability.

Regional Commissioner for Unguja South, Rashid Hadid Rashid, stated that without adequate road infrastructure, "South Region is about tourism, and we will be stranded." The region will so become more accessible as a result of this decision, and huge investments will be made.