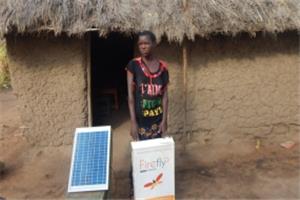 Posted on :Tuesday , 18th July 2017
Residents of Manila village in Rorya District, Mara Region have opened a new chapter in their neighbourhood. They no longer have to bear the brunt of 'living in the dark' after a new solar power named Firefly came to their rescue.
About 500 residents in a village located about 10 km from Lake Victoria can now conduct their activities comfortably, thanks to an American Engineering Group Limited (AEG) and Mashaka Foundation for successfully implementing the solar power project. Manila has also set a record of becoming the first village to benefit from the Firefly solar technology that has been designed by US experts.
The village is now called Tanzania solar village and local residents say the solar power light has among other things helped to chase away hyenas that have been disturbing and putting their lives in danger for years. "In the past we used to go to bed as early as 6:pm (1800 hours) for fear of being attacked by hyenas. Nowadays however, we can remain awake until 10:pm.
There are no hyenas, they fear the light, " said Mrs Esther Keneth (28), one of the beneficiaries of the Firefly solar power project at Manila village. Mrs Keneth, a mother of six children lives in two small grass thatched houses . She has never experienced any difficult or incurred any costs of using the Firefly solar power. "Our house is always bright, including under the beds.
We don't put it off until morning. The solar works even during rainy season, " she told the' Daily News' on a visit to the village on Tuesday this week. Though Mrs Keneth is one of the poor villagers surviving on less than one dollar per day, she is proud that her family now has access to light just like any other families with good income.
"Although I'm a poor, my situation has changed for the better because our house has light and the money that was spent on kerosene is now used for other things" she pointed out smiling.
The solar power, according to the majority of the villagers has enabled primary and secondary school students to study in the evening, a move which will greatly help to boost their performance academically.
For example Ms Helena Kimbagi (40), another resident of Manila village said availability of light has motivated her children to put more efforts in their studies. "Imagine my child who is in standard one is able read.
There is light in the home, this is an achievement, we are very grateful" Ms Kimbagi a mother of nine children said. Juma Erasto (18) a Form three student at Nyamtinga Secondary School said the use of small lamps locally known as kibatari is now a thing of the past at Manila and other neighbouring villages that have benefited from the project.
Dr Yusufu Juma a local medical expert in the region said the use of solar power will further end health risks associated with the use of small lamps. "The side effects of using the small lamps are enormous, so solar power will real be helpful to students" Dr Juma said.
Mr John Mashaka, the founder of Mashaka Foundation said more than 480 households at Manila village and some families from the neighbourig villages have benefited from the Fire Fly solar power project free of -charge. "Iam indeed happy to see that many have light.
It is expensive to light the whole village but we have provided them with solar panels, batteries and tube lights free of charge" Mr Mashaka, a Tanzania young man who lives and works in US said. Manila has become the first village to benefit from the new Firefly solar power technology not only in Tanzania but worldwide.
The technology was designed by American Engineering Group after its experts visited the village and other parts of Tanzania to study the best solar technology that would be suitable in the area. "They came with university experts and conducted a study.
After designing the technology it was used for the first time on the village" he said adding that a number of local villagers had also been trained to handle any emerging technical problems in order to ensure sustainability of the project.
The Firefly solar power is the second project that had been successfully implemented by American Engineering Group Limited in collaboration with Mashaka Foundation at Manila village.
Last year a new modern water project implemented by the same partners (AEG and Mashaka Foundation) was inaugurated at the village. The inauguration ceremony was witnessed by regional and district government officials as well as local leaders. Presently the water project is providing clean and safe water to thousands of people at Manila and the neighbouring villages.
The project is a big relief to women and children who used to wake up at night and walk about 23km searching for water. "After staying in America for a long time visited this area (Manila village) and shocked with the situation in which women and children were undergoing by walking about 23 km looking for water, children studying using small lamps (vibatari). Iam now happy to see lives changing" Mr Mashaka said.
Mr Mashaka said he is also happy that the government of Tanzania is recognizing efforts made by American Engineering Group and Mashaka Foundation to improve living condition of people in the area.
"I was even recently invited to attend a women form that was graced by Vice-President Hon Samia Suluhu Hassan and awarded certificate of appreciation. This is indeed encouraging and my wish is to see life do something in changing life of Tanzanians" he said.
Tanzania
Parents Want Answers As 4 Children Found Dead in Car
It is still unclear of what happened to four children, who were found dead in a car on Sunday night. It appears that.