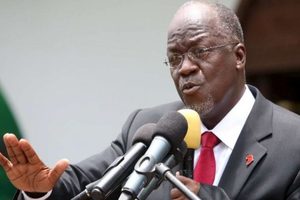 Posted on :Saturday , 15th July 2017
Vice-President Samia Suluhu Hassan has said that the government is planning to put up 100 public health facilities countrywide to make sure every ward gets one, in an effort to curb maternal mortality.
She said the World Bank (WB) had already agreed to bankroll the project to construct public health facilities in every ward, noting that the government was committed to ensure that every ward has a hospital and health facility for every village.
"The government of Canada has chipped in on the project promising to support construction of operating theatres in the health facilities to control maternal mortality," said the Vice-President at the event to hand over medical kits worth 40m/-, donated by Kuwait to Mbagala Zakhem Health Centre in Temeke Municipality.
Ms Samia said the current health facilities were overwhelmed by fast growing population, pointing out that there were 2,000 births per week in Dar es Salaam and 124 births per week per hospital.
She noted that so far, the government has registered immense achievements in the fight against child mortality. According to the VP, the child mortality rate has decreased from 432 deaths to 56 deaths per 100,000 live births.
However, Ms Samia pointed out that maternal mortality rate remains high and that the construction of new public health facilities will help to control the problem.
Earlier, Dar es Salaam Regional Commissioner (RC), Mr Paul Makonda, said the Dar es Salaam Regional authorities will supply kits and new 610 hospital beds to city based hospitals for maternity wards to accommodate more mothers.
He said that apart from Dar es Salaam residents, the city-based hospitals also serve people from neighbouring Coast Region, saying there were between 120,000 births and 130,000 per year.
Kuwait Ambassador to Tanzania, Mr Jasem Al-Najem said his government through Kuwait Fund will support expansion project at Mnazi Mmoja Hospital in Zanzibar, to improve health service. He added that his government will soon supply medical kits to the Jakaya Kikwete Cardiac Institute.