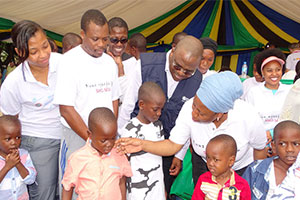 Posted on :Tuesday , 27th December 2022
To guarantee sickle cell sufferers receive top-notch medical care, the Ministry of Health has partnered with other healthcare organisations.
Through neonatal screening, treatment, and increased public knowledge, the Public Private Partnership (PPP) with some organisations, such as the Tanzania Non-communicable Diseases Alliance (TANCDA), aims to reduce the number of infant fatalities from Sickle Cell Disease that can be avoided.
During the recent 4th National Scientific Conference on Non-Communicable Diseases, Prof. Paschal Ruggajo, Director of the Department of Curative Services for the Ministry of Health, made this revelation.
Prof. James Mdoe, Deputy Permanent Secretary for the Ministry of Education, Science, and Higher Education, attended the conference.
In addition to discussing the effects of sickle cell disease, Prof. Ruggajo also mentioned some of the measures to be taken, such as increasing public awareness of the disease by eradicating misconceptions and promoting newborn screening, as well as increasing the use of hydroxyurea for SCD treatment by including the medication in the nation's national health insurance programme.
Doctors use the medication hydroxyurea to treat patients with sickle cell disease.
He stated that the campaign will also target those who intend to get married, so they can be counselled to test for SCD genes and receive the proper counselling.
The conference was one of the events held to commemorate the year's "National Non-Communicable Diseases Week" and was organised by the Ministry of Health in partnership with Muhimbili University of Health and Allied Sciences (MUHAS) and the Catholic University of Health and Allied Sciences (CUHAS).
Ms. Arafa Salim Said, CEO of the Sickle Cell Disease Patients (SCDP) Community of Tanzania," expressed her joy about the new progress in enhancing health care for them, particularly expanding access to hydroxyurea and raising public knowledge of the condition.
A milestone in the fight against the disease, according to Dr. Emmanuela Ambrose, a sickle cell specialist from CUHAS, was reached with the partnership to enhance care for SCD patients.
Other NCDs that predominated conference discussion included malignancies, diabetes, heart difficulties, mental health issues and auto accidents.