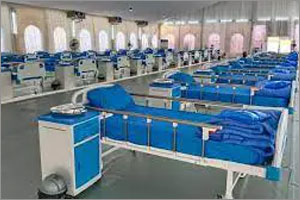 Posted on :Friday , 26th May 2023
Tanzanian health authorities have set aside 90 hectares of land for the construction of an isolation centre for epidemics treatment. The government has allocated 8.8 million U.S. dollars in the 2023/2024 financial year for regulating outbreaks of highly infectious diseases.
Godwin Mollel, the deputy minister for Health, told parliament that the high-tech isolation centre will be built in the Kagera region that borders Uganda. "We have decided to build the isolation centre in the Kagera region because of its social interactions with people from the neighbouring country," said Mollel.
Significance of the isolation centres in the country
The construction of the centre will go in tandem with the upgrading of the Kagera regional government hospital. This will aid in offering efficient medical services to people within the area. There is a corresponding construction of another highly infectious disease treatment unit in Dar es Salaam.
The isolation centres will provide a safe environment for patients suffering from the infectious disease. Additionally, the centres will help isolate and manage those more vulnerable to the disease and increase the successful treatment rate.
Importantly, isolation centres will provide a higher level of medical care than is often available in remote areas of the country. Noteworthy, the centres will aid in reducing the risk of transmission to other parts of the population. Therefore, the centres will provide a safe space for those infected to recover and protect the community from the disease.
These isolation centres will prepare the healthcare personnel to handle any such emergencies promptly in the future. Additionally, the centres will provide essential relief and treatments to limit any negative impacts. The centres will further become research and training facilities, enabling healthcare professionals to improve their abilities and skill.