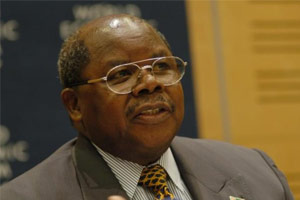 Posted on :Thursday , 21st June 2018
FORMER President Benjamin Mkapa has challenged energy experts and institutions in Sub-Saharan Africa to work out strategies for expanding solar technology across the region in order to generate reliable and affordable power.
Mr Mkapa said that the sub-region was gifted with abundant sunlight which, if well utilised, could accelerate power generation, boost the industrial economy and increase youth employment. Mr Mkapa was speaking in Dar es Salaam yesterday during the launch of the Solar Photovoltaic PV Guide Book authored by renewable energy expert, Mr Godwin Msigwa.
The retired president said that of the 400MW generated around the world just a single gigawatt was installed in Sub- Saharan Africa. "This fact is contrary to the actual situation in Sub- Saharan Africa because most of its countries are still facing electricity problem despite being a sun-belt region," he said.
He cited Europe, China, the United States, Japan and India, noting that despite having other major sources of power, these countries were also generating solar power. "Germany has already connected more than 40 gigawatts to its national grid while China has more than 70 gigawatt ... this is an indication that solar technology is growing and becoming a reliable source of power," Mr Mkapa said.
He said Tanzania needs to set up strategic plans to boost solar technology whose implementation will be overseen by government institutions such as Commission for Science and Technology (COSTECH), by collaborating with other development partners and experts from public and private sectors.
He, however, said that although solar energy technology is one of the renewable energy technologies utilised in the country, it has been fetching a poor market especially in rural areas. The president also said that the sector was also facing a problem of technicians who could instal the solar system at required standards.
"This situation has caused most of the solar systems installed not to work properly because the work is being done by low-skilled technicians." He said the book guide will help people who are learning to become technicians in solar energy to get proper guidance which will help them to improve their work.
Head of Development Cooperation, Delegation of the European Union to Tanzania, Mr Jose Correia, said that energy development in Tanzania plays a key role in the government's drive for industrialisation. He said the EU has had a long-term support to Tanzania's energy sector, mainly focused on promoting rural energy access and power generation from renewable such as hydropower and solar systems.
"Under the current EU - Tanzania cooperation programme 2014-2020, we have scaled up our engagement in the energy sector with a total allocation of Euro 180 million," he said. The book's author, Mr Msigwa said that the book will be provided for free to Vocational Education and Training Authority (VETA) colleges, public and private libraries among others.
He said the book guide will help engineers and technicians to execute solar energy works at the required standards. "This guide book will help in the sustainability of solar energy projects because most of the projects failed to bring positive results especially those which faced technical problems," he said.