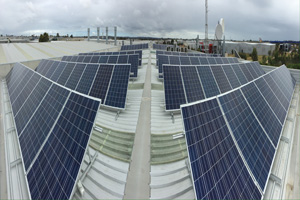 Posted on :Wednesday , 24th April 2019
British based company, Ncondezi Energy entered into an agreement with GridX Africa, a private power producer to form a joint venture which would specialize in installing solar mini grids for businesses and shops acroos Africa.
This new alliance emerging in the solar energy sector of Africa aims to conquer the vast potential of the African solar and energy storage market.
In particular, both companies want to supply mini-grids with batteries for businesses and businesses on the African continent. The solar industry is increasingly attracting PPPs to Africa, where businesses continue to invest in cleaner and cheaper energy.. For example, the CrossBoundary Energy investment fund and Equator Energy, designs, finances and operates solar power plants and allows companies to benefit from electricity without necessarily investing in solar power plants themselves.
Michael Haworth, President of Ncondezi says, "investors' appetite is opening up to the solar mini-grid sector because they have now fully understood that small renewable energy projects are a regular source of income."
Ncondezi raised $2.48 million which would allow the company to get into an definitive agreement and secure an exclusivity period with GridX. These funds will pay GridX a $ 780,000 fee, a prerequisite for signing a final agreement with GridX. In return, the joint venture will have access to the 15 mini-grid solar projects in the portfolio of GridX in Africa.
Ncondezi's remaining capital will fund the joint venture and a first $ 1.1 million solar mini-grid project. Before the end of the second quarter of 2019, the Joint Venture Company is expected to exit baptismal funds.
The question remains as to whether GridX will also transfer its latest project to the future joint venture: a mini-grid developed in partnership with IPP Solar Africa. It supplies 189 kWp of solar energy to Singita Faru Faru Lodge, a hotel located on the western corridor of Serengeti National Park in northern Tanzania. This small solar power plant on the ground is integrated into an American brand Tesla 174 kW/522 kWh battery system. This mini-grid replaces generators that consume 100,000 liters of diesel on average each year.