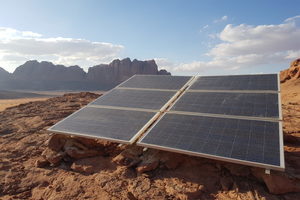 Posted on :Wednesday , 1st May 2019
To ramp up solar's share to its energy mix, Tanzanian power utility (Tanesco) wants to build solar plants across six regions. As the nation tries its level best successful projects will be ranging from 20 MW to 50 MW in size. With a combined capacity of 150 MW Tanzania's state-owned power utility the Tanzania Electric Supply Company Ltd (Tanesco) has issued a request for qualification for the construction of several large-scale PV projects.
From plants in the regions of Dodoma, Singida, Shinyanga, Mwanza, Simiyu and Iringa over the next two years, according to the document through the tender, Tanesco aims to procure power generation. The selected projects will be between 20 MW and 50 MW in size, project proposals must be submitted by October 19 and developers will have to undertake feasibility studies and operate, own, build, finance, and transfer the projects.
All the power from renewable can be obtained till 2050 by this African nation.The tender scheme would be the first real attempt to bring large-scale solar to the sub-Saharan African nation, if implemented.Tanzania has implemented mini-grid solar projects to improve the share of renewables in its energy mix, with a population of around 59 million people and access rates to electricity ranging around 32%,Jumeme Rural Power Supply Ltd Tanzania's mini-grid has operated the last two projects of this kind.
installed power generation capacity comes from 696.3 MW of thermal gas power plants that makes up to around 57% of Tanesco's, with the remaining 43% represented by 561.8 MW of hydropower. The company operates a further 52.2 MW of off-grid plants.
By 2050 Tanzania has the potential to cover its electricity demand entirely from renewables. According to a recent study published by the Institute for Sustainable Futures of the University of Technology Sydney, the Climate Action Network Tanzania, Bread for the World and the World Future Council.
The inability of consumers to distinguish between good and poor quality products is a key market barrier. Confidence of the consumer is eroded by poor quality products consumer Tanzania Bureau of Standards (TBS) and Lighting Africa have been working to integrate the Lighting Global Quality Standards into their regulatory framework. Until standards have been adopted They will continue to provide guidance to (TBS). To mitigate the impact of substandard products and counterfeits in the market They will also work with the Tanzania Renewable Energy Association (TAREA) and Fair Competition Commission (FCC).