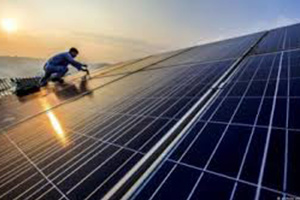 Posted on :Thursday , 30th May 2019
A new report presented by the German Solar Association (BSW-Solar) and the Becquerel Institute has disclosed that with the entry of many international investors and the competion for solar projects, Africa is on track to increase its current solar capacity six-fold or 30 gigawatts (GW) by 2030.

In Consideration to the Solarise Africa Market Report, the solar potential in Africa is at least as great as the current demand. "We assume that we will need about 2,000 terawatt hours (TWh) of photovoltaic energy to decarbonize the continent's electricity consumption by 2040." Said David Wedepohl, BSW-Solar's Managing Director.

The report was based on an examination of the top 10 African countries with the highest solar potential, namely: Egypt, Morocco, Nigeria, Ghana, Algeria, Ethiopia, Angola, Namibia, South Africa and Tanzania.

The report indicates that Africa accounts for only 1% of the world's installed photovoltaic capacity. However, during 2018, the continent developed an additional 1 GW, representing a 25% growth rate for the sector.

In February 2016, Morocco inaugurated "Noor", the seventh largest thermodynamic solar power plant in the world. Only eight months later, in October 2016, Senegal inaugurated "Senergy 2", the largest solar power plant in West Africa with 75,000 photovoltaic panels and a capacity of 20 megawatts (MW), covering the want of 200,000 Senegalese households.

The latest, Zagtouli power plant in Burkina Faso, with a maximum production capacity of 33 MW, has, in turn, become the largest solar farm in West Africa.
The Egyptian government also declared, the inauguration of the largest solar plant in the world built in the eastern region of the Sahara Desert. The plant is ready to produce between 1.6 and 2.0 GW of solar power by mid-2019.