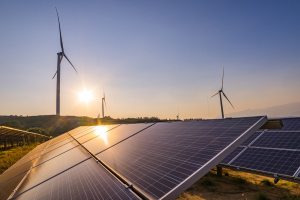 Posted on :Friday , 20th October 2023
MORE than 200 young people from four regions have been trained in renewable energy skills to help them secure employment in the environment-friendly sources of fuel.
The Germany Corporation for International Cooperation (GIZ) Employment and Skills for Development in Africa (E4D) programme introduced the Enabling Youth Employment in Solar Energy in Tanzania project to support 200 youth, among them 40% are women, to access employment in the Solar PV sector as artisans.
The Principal Trade Officer from the Ministry of Industry and Trade, Wilfred Kahwa said the programme is useful in solving the country's unemployment problem.
"The International Labour Organisation reports that there are over 10 million young people joining the labour market in Africa every year," said Kahwa, adding that only 40% of the youth get employed and even that, it is usually not well-paying jobs.
"The government has been trying to come up with various initiatives to address youth unemployment," said the Trade Officer, lauding the initiative as timely.
On his part, the project manager, Faustine Msangira, said the programme is reaching out to young people in the four regions of Geita, Manyara, Simiyu and Shinyanga.
He said more than 600 young people had applied to join the program but they decided to start with the initial 200.
Msangira explained that they had to start with a few number due to the availability of resources and that the second phase of the program should be starting next year.
The youth completed 2 weeks training sessions on technical and entrepreneurship at the Arusha Technical College and were later placed on 8 weeks workplace training in solar companies.
In addition, a Solar PV course Curricula was developed and implemented and 18 teachers from 13 Technical Vocational Education Training institutions were trained.
The Employment and Skills for Development programme in Africa is co-funded by the European Union and German Federal Ministry for Economic Cooperation and Development, implemented in Tanzania by the GlZ - E4D programme.
It was implemented in cooperation with Tanzania Renewable Energy Association (TAREA) and Arusha Technical College.
The expected outcomes include the Recognition of Prior Learning and accreditation of informal and formal training in the Renewable Energy sector being followed up from the previous Online Workshop Lessons Learned of the Solar PV training at Arusha Technical College-Solar Training Centre.
It also aims at supporting the private sector to improve the quality of training in the Renewable Energy sector, which are member companies of Tanzania Renewable Energy Association (TAREA), willing to support Vocational Training Institutions and to provide a large number of workplace training places in the future.