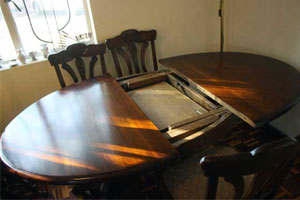 Posted on :Thursday , 27th July 2017
Tucked away in a bungalow off Ngong Road in Nairobi, just behind Uchumi Supermarket, is Niche Décor Furniture, which boasts a collection of German furniture dating back more than 50 years ago but made in classical Victorian design. Niche Décor Furniture deals in a variety of items, including chairs, tables, lampshades, grandfather clocks, paintings and other wooden functional and decorative items that will give your house a feel of the '60s.
Niche Décor Furniture is not your ordinary furniture and interior décor shop but more of a small museum with functional, aesthetic and natural rare pieces of art, furniture, cutlery and household stuff that will add a unique touch to your home.
A busy collectors' and retailers' outlet, it is testimony to the fact that Kenyans are warming up to decades-old German art, furniture and accessories. With globalisation, cultures have merged and people are borrowing from other cultures.
"More Kenyans are taking to the German way of living. Our clients are your usual Kariuki, Otieno and Musyoka," says Ms Patricia Kathure, the customer attendant.
MULTI-TASKING FURNITURE
Among the remarkable items is an old grandfather clock that does not use batteries. "It uses gravity and weight," offers Ms Kathure. With a grandfather clock, you become very time conscious since it chimes every 30 minutes. But if you find the chiming a bother, you can switch it off. Every grandfather clock tells a story about when and where it was made, and by who, Ms Kathure says.
In addition, there are old, beautiful and functional hand-made table clocks that require winding to keep them going.
Then there is a collection of oil paintings for hanging on the wall, with each bearing its creator's signature. They come with hand-made baroque frames, further accentuating their contours and effects.
But it is the Victorian-style furniture that really defines the German cultural element in this model bungalow. The sofas are made of pure hardwood and are all hand-made. An notable piece is the versatile Victorian sofa bed, which serves as a seat during the day but can be converted into a bed at night. It has a huge, hidden storage compartment underneath, which maximises the use of space.
"In Germany, most houses are generally small, with no guest room, so the multifunctional sofas are ideal for transforming the living room into a guest room at night," Ms Kathure says.
Perhaps it is due to limited space and the desire to live stylishly that Kenyans are taking to the sofas.
"Demand for them is rising as more people are placing orders three months in advance," says Ms Kathure.
The leather seats are made of pure leather and look as good as new. There are also L-shaped and recliner leather seats with foot-rests, which are ideal after a hard day at work. Then there are coat hangers made of marble and pure brass, with a sculptured base.
Another notable piece of furniture is the dining set that normally seats six people but can be expanded to accommodate eight. Everything, from the seats to the tables, is hand-made using a joinery technique that needs no nails. Looking at the furniture, it is hard to tell that it is nearly six decades old..
Ms Kathure pulls one section of the table to the left and the other to the right, exposing a compartment underneath bearing folded wooden panels which she lays out, lengthening the dining table.
BEST QUALITY
"The underneath can be used to play chess, as is done in Germany," she says. Other pieces of furniture include display units of various sizes that are made of hardwood and pure brass
"The corner display units are appropriate for a small living room," says Ms Kathure.
Also available are wooden-wheel trolleys for indoor use, as well as some made of wood and brass. "We have Kenyans who know and value the German style of living. These are the people who are buying these items for their beauty, authentic style and high quality that makes a statement," Ms Kathure says.
Among the household items are utensils, cutlery sets, kitchenware, beer mugs, umbrella holders and coat hangers. The beer mugs help keep the drinks cool and uncontaminated.
"In Germany, everyone has their beer mug with their name on it. In Kenya, our customers like it for because it keeps their Muratina cold and retains its taste for a long time," says Ms Kathure, adding that their pocket friendly prices attract clients from as far as Tanzania.
Niche Furniture Décor prices pocket-friendly. "This has attracted clients from as far as Tanzania. We are happy with the market response," says Ms Kathure.