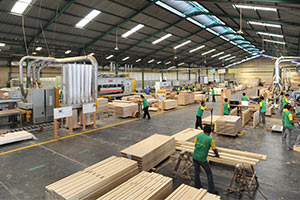 Posted on :Tuesday , 26th October 2021
Dr. Ezekiel Mwakalukwa, Chairman of TNBC's Forestry Working Group, stated in Dar es Salaam. Ben Mfungo Sulus, co-chair of the working group, and Dr. Godwill Wanga, executive secretary of the TNBC, are with him.
The Tanzania National Business Council (TNBC) is launching a program to encourage the creation of Engineered Wood Products manufacturing units (EWPs).
TNBC has developed a particular strategy to encourage the creation of EWPs in Tanzania through its Forestry Working Group (FWG).
During the ninth meeting of the FWG in Dar es Salaam, TNBC executive secretary Godwill Wanga stated that EWPs are critical in the value-addition chain of forestry products, and so play an important part in Tanzania's economic growth.
Dr. Wanga stated that during the 12th TNBC meeting, which was led by President Samia Suluhu Hassan, TNBC was entrusted with establishing an EWP strategy.
'We constituted the working group to lead the study into the formulation of the plan for implementing the EWPs.' Tanzania would benefit greatly from the implementation of the EWPs,' stated Dr. Wanga.
He said that the forestry sector provided several benefits, including the creation of jobs for Tanzanians and the generation of foreign cash revenues through the sale of wood products.
The Ministry of Natural Resources and Tourism will oversee the strategy's implementation. 'We believe that its implementation would boost the construction of EWPs, which will minimise the importation of such items from outside the nation,' he added.
Dr. Ezekiel Mwakalukwa, head of TNBC's Forestry Working Group, stated that the President Hassan-led administration was stepping up efforts to improve Tanzania's business climate in the construction of forestry industries in order to support the growth of other economic sectors.