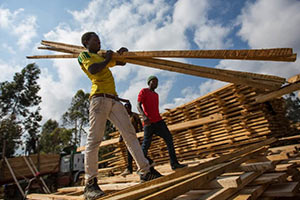 Posted on :Friday , 26th November 2021

In Tanzania's fast developing economy, rising demand for timber and wood supply from industrial plantations and natural forests have created a new source of income for smallholder farmers in Tanzania's Southern Highlands, which is experiencing a tree-growing boom.
Woodlots are becoming increasingly common in East Africa as a result of growing urban demand for lumber, electric poles for rural electrification initiatives, firewood, and charcoal; Kimambo and Naughton-Treves. Tanzania, for example, is expected to have a shortage of 3.2 million m 3 in round-wood equivalent by 2035, necessitating the doubling of existing plantations.
Wood products are in high demand. The demand for wood goods is likely to rise further. Timber demand is primarily driven by the building, furniture, and paper industries. Other industries that use wood include electricity transmission, which uses eucalyptus poles, and transportation, which uses wood in the form of pallets and crates. Timber demand is predicted to more than double in round wood equivalent (rwe) between 2013 (national consumption of 2.3 million m3 (rwe)) and 2035 (5.2 million m3 (rwe), mostly driven by the building industry and paper use.
Tanzania's commercial forestry sector is in transition, with the supply base shifting away from big corporate and government plantations and toward small and medium-scale tree farmers. This shift in supply has produced issues since the processing environment is not set up to service small producers effectively, and the quality and productivity of their woodlots are low, implying that the industry is functioning well below its potential. With small and medium-sized tree farmers expected to remain significant players in the industry, there is an urgent need to maintain a focus on driving improved production and quality in their woodlots. From a commercial standpoint, there is a need to seek for ways to stimulate investment in improved processing technologies, but only if a certain set of criteria are satisfied.
As the productivity and quality of small tree grower woodlots improve and they evolve as grower groups, these prerequisites will begin to be satisfied in more regions of the Southern Highlands, stimulating more investment. From a policy standpoint, there is a need to guarantee that the sector's progress is synchronised so that all market participants may contribute to the building of a competitive, inclusive, and resilient industry. This should contribute to demonstrating the potential of plantation-based value chains and wood product markets, as well as their importance to the environment, national economy, and rural development. Furthermore, improved links between different players in the value chain should be explored, raw material and wood product standards should be pushed, and there may be an opportunity to try to create pro-wood procurement policies from public sector sectors to assist boost demand for wood products.