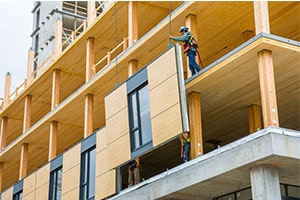 Posted on :Wednesday , 4th October 2023
The 96-metre-high "Burj Zanzibar" is expected to open in the next years, offering a stunning new addition to Zanzibar's skyline. The most notable aspect of this structure is not its height, but the fact that it will be constructed primarily of wood. According to Milan Heilmann, Project Manager at CPS Zanzibar, the landmark project is meant to demonstrate to the globe the benefits of employing timber as a construction material. While the foundations and core of the building will be made of concrete, the remainder of the structure will be made of wood. The Burj Zanzibar has been designed to be the world's tallest timber structure. Construction will begin next year and take three to four years to finish.
Heilmann expects that the new wooden skyscraper in Zanzibar will be the first of many such projects throughout Africa. Our objective is to build millions and millions of buildings. The renewed interest in wood reflects the ecological damage done by materials such as steel and concrete. Building materials are responsible for an estimated 11% of worldwide carbon emissions. There is currently no lack of lumber provided from forests certified by the Forestry Stewardship Council, which operates the most well-known certification system in the sector, notably in East Africa. There is an abundance of FSC-certified wood in the region, clarifies Caroline Ray, Arup's regional director for East Africa. She emphasises that plantations in Tanzania and Uganda are secure and sustainable, and that Kenya and other neighbouring countries may import wood from these plantations. Given that trees grow among the fastest in the world in the equatorial regions of Africa, the continent has the ability to supply all of the timber required for its own needs.