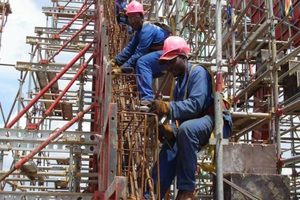 Posted on :Monday , 11th September 2017
National Construction Authority Director Daniel Manduku says the proposed Building Code Bill awaiting debate in parliament, if passed will allow for a review of construction materials used locally in favor of more cost effective and environmental friendly products.
Kenya's construction industry is accelerating at a rapid pace and making a substantial contribution to the country's strong GDP growth figures on the back of major public works projects and rising demand for mixed-use and residential developments. However, the market is not without its challenges.
Industry players are calling for the review of the Building Code Bill to allowing the use of versatile construction materials.
Speaking at the LafargeHolcim Awards, Manduku says that the proposed bill will give way for a new dispensation unlike the current pre-colonial law that did not recognise local construction materials like straw, bamboo or clay as certified building materials.
During this year's competition, Kenya had 22 participants up from 8 in 2014. The main category of the competition was open to among others architects, project owners, building and construction firms.
However none qualified for the top awards. Project Participants addressed innovation and transferability, social participation, economic viability as well as environment performance.
Manduku challenged the local construction industry to invest more of sustainable projects in order to achieve global competiveness.