Kenya Building & Construction Market Analysis 2024
Kenya is home to one of the tallest skyscrapers in Africa and many more projects have been announced in both the government and private sector. 17 skyscrapers now boast a height of more than 100 metres.
The Kenya construction market size was valued at $16.6 billion in 2021 and is expected to achieve an AAGR of more than 5% during 2024-2026. The forecast-period growth in the industry will be supported by investments in transport, electricity, housing, and manufacturing projects. The county will also benefit from the government's plan to build 10,000 housing units.
The latest Kenya National Bureau of Statistics (KNBS) GDP data for the third quarter of 2022, together with leading indicators, show that the Kenyan economy registered strong growth in 2022.
The boom in construction is owed to the country's growing economy. Real GDP grew by 4.7 per cent in the third quarter of 2022, mainly driven by robust activity in wholesale and retail trade, education, electricity and water, andd real estate sectors.
The National Construction Authority (NCA) received a total of 8,154 applications for project registration between January and December of last year, according to the Status of the Build Environment Report by AAK, which was recently published. According to the AAK report, the total cost of approved projects was Sh280.9 billion.
Kenya Construction projects in 2024 include : 30 million euros ($32 million) for the construction of eight sports facilities in Kenya.
The 104km four-lane stretch will run from Kisian in Kisumu to Busia border town. The project will see the construction of an 11km link road between Kisian and Kisumu bypass.
Another 127 km will be built between Jinja and Malaba, which will be connected to a 20km stretch that will run along the border to Busia.
The high-speed highway will be the continuation of the $1.48 billion Kampala-Jinja expressway, which is expected to be completed by 2025.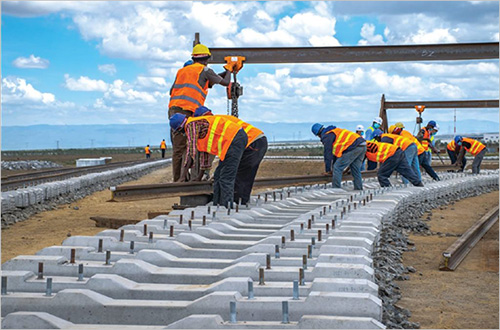 Kenya Railways has started construction works on Phase 1 of The Nairobi Railway City project, which is expected to cost KES12bn ($95m).
Last December, the ground-breaking ceremony was conducted for the project at the Nairobi Central Railway station.
The Kenyan Government is focused on the redevelopment of the Nairobi Central Railway station and its surrounding areas into a multimodal, transit-oriented and urban development project under the name 'The Nairobi Railway City'.