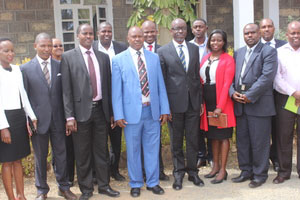 Posted on :Monday , 9th October 2017
Kajiado County is in the process of building a three-storey state of the art assembly, fully equipped with modern facilities like underground parking with room to accommodate as many as 700 cars. The facility is expected to cost Sh 543 million.
The building will promote a sense of community in the area and will provide a platform for support assembly activities, according to speaker Johnson Osoi.
Mr. Osoi elaborated saying that members of the general public will now be able to witness the debates like in any other parliament. The old chambers lacked space for such a set up, but the new building will now remedy this and will house galleries for both the press and the for an audience.
This move is done with a hope of encouraging more public participation in the affairs of the government.
The building will also feature a restaurant, MCA lounges, administrative offices, a Hansard office, a health club and also the speaker's office.
The new members of the assembly Peter Tirishe (Mosiro Ward), Johnson Osoi and MCAs Hosea Toshi (Matapato South) and Daniel Konyango (clerk) have also underlined their intent to leave start a legacy with this project.
Osoi has said that his team hopes to leave a mark with this project and ensure a higher quality of service delivery.
Osoi and his team also intend to discharge their mandate soon, serve the public well in their capacity while making sure that the institution makes a lasting mark in the next five years.
The speaker is also keen on seeing through the construction within the decided time period.
He re-affirmed this by saying "This was our development agenda in the first assembly and we must see it completed."