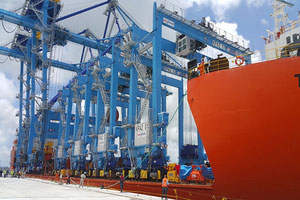 Posted on :Tuesday , 17th October 2017
The Japanese Government is all set to finance The Kenya Port Authority's (KPA) newest endeavor. The Japanese Government has allocated a US$ 339.2m loan to the terminal project, with construction work on phase 2 due to begin in January 2018.
KPA Managing Director, Catherine Mturi-Wairi revealed that development tendering for the project is very close to fully commencing. Phase 1 is expected to be completed by September 2017 and is expected to house 550,000 TEUs.
The KPA made the announcement of the project after securing two top-end electric cranes for construction purposes. This move is expected to improve efficiency at the Mombasa port.
TradeMark East Africa (TMEA) have funded the cranes through the UK government's International Climate Fund (ICF) facility. With the crane's procurement cost estimated to be US $8.7m.
The Mombasa Port cargo traffic have recorded a 11.9 percent growth in the first 6 months of 2017, according to figures released by the Kenya Ports Authority (KPA). This is attributed to the construction of the second container terminal.
The Mombasa Port has been taking measures to improve efficiency as a means to beat the competition posed by the neighboring Tanzania.
Tanzania had plans to construct a mega-port in Bagamoyo that would be the largest in East and Central Africa, back in 2015. However, reported financial constraints have put a spanner in their works.
The biggest port in East Africa and the region's trade gateway. Mombasa handles imports of consumer goods and fuel. Mombasa also exports of coffee and tea from landlocked neighbors such as South Sudan and Uganda. Besides, the traffic flows serve as a barometer of economic activity in the region.