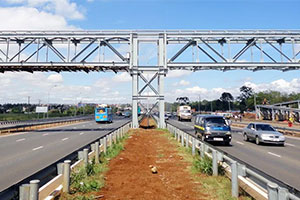 Posted on :Monday , 29th April 2019
The Kenya Urban Roads Authority (KURA) has started construction of a advanced flyover exchange connecting the Outer Ring Road and Thika Super Highway in Kenya, in a bid to comfort traffic congestion as a result of high population frequency in the Eastern Nairobi.

The cooperation has therefore declared a 3 month closure of the overpass at GSU headquarters to make sure that the construction works are not disrupted by vehicles.

It is an initial phase of US $2bn Master Project Support Agreement (MPSA) between the government and the Sinohydro Corporation of China to construct a number of infrastructure projects containing roads, bridges, housing facilities and extension of electricity to rural communities across the country.

Kura's communication Manager, John Cheboi said: "There has ever been traffic congestion at that junction and the roundabout is not enough to ease traffic, so the contractor went back to the drawing table of the design of Outer Ring Road and Thika Super Highway, and the only ovious option was to construct an additional flyover," said Cheboi.

The new exchange is expected to advance Outer Ring Road and it is seen as a game changer for the eastern part of Nairobi.

The government has clarified that the MPSA is a barter arrangement in which it will be obliged to deliver to Sinohydro, Ghana's manufactured aluminium products. The arrangement required the establishment of the Ghana Integrated Aluminium Development Corporation, (GIADC) a statutory public corporation, to inspect the development and the utilization of the full value chain of the country's bauxite resources.