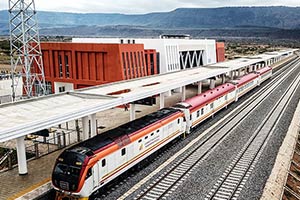 Posted on :Thursday , 23rd February 2023
The projects will involve constructing a public square and a new stop for the Nairobi Central Railway.
Phase 1 of the Nairobi Railway City project, which is anticipated to cost KES12 billion (USD 95 million), has begun construction by Kenya Railways.
The project's groundbreaking event took place at the Nairobi Central Railway station in December.
The Nairobi Railway City, a multimodal, transit-oriented, and urban development project, is the main goal of the Kenyan government. It will be built around the Nairobi Central Railway stop.
A new Nairobi Central Railway station, a public plaza, and a pedestrian footbridge across the Nairobi railway yard are all part of the project's scope.
The project will also include improvements to the Nairobi railway yard's intricate drainage system as well as work on hoarding and securing the site of the public park and railway station.
In addition to the paving of Kenya Railways' corporate headquarters' driveway and parking lot, additional work being done includes the building of a new structural steel locomotive shed at the Makadara yard and the relocation of the existing shed at the Nairobi Yard.
"The pedestrian footbridge across the Nairobi Railway yard will be all-weather, modern, and convenient for people living with disabilities," said Phillip Mainga, managing director of Kenya Railways.
The Nairobi Railway City project will be built in phases and is anticipated to be finished in 2030. The governments of Kenya and the UK have provided financial support for this initiative.