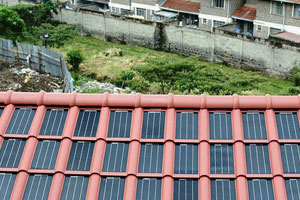 Posted on :Wednesday , 13th September 2017
Schools in rural Kenya often suffer through frequent power outages, and energy from the national grid can be expensive. But solar roof tiles from Strauss Energy offer a cheaper, renewable alternative. At the 275-student Gaitheri Secondary School in Murang'a County, the reliable source of electricity has enhanced students' performance since they can study at night, and allowed the school to give computer lessons.
Strauss Energy works to place building-integrated photovoltaics (BIPV) on structures, such as the solar roof tiles at the Kenya school. The tiles are intended for rooftops in place of solar panels, and provide a clean source of energy. Battery storage at the school ensures it receives power even on cloudy days and at night. Thanks to the solar roof tiles, Gaitheri Secondary School only pays around 1,500 Kenyan shillings, or about $14.50, a month, which the Thomson Reuters Foundation notes is essentially a fixed charge for access to power from the grid.
Teacher Jackson Kamau Kiragu told the Thomson Reuters Foundation they can now offer computer lessons, saying, "We've got 18 computers, but power was a challenge before Strauss Energy came on board."
Organizations Christian Aid and the Pan-African Climate Justice Alliance commissioned a survey earlier this year that found only around 57 percent of Kenyans are hooked up to the grid, so there's potentially a large demand for off-grid power. Strauss Energy Chief Operations Officer Charity Wanjiku said they aim to develop BIPV technology to take advantage of Kenya's sunshine, which isn't fully exploited.
She said while the technology may be expensive for homes – tiles cost between $20 and $250 each, based on their size – it's optimal for schools, hospitals, or estate developers. Strauss Energy is researching ways to lower the cost of the solar tiles while boosting efficiency, and has plans to build a plant able to pump out 10,000 units every day.