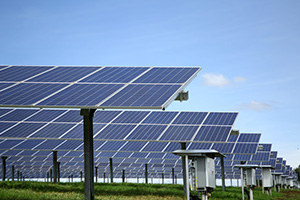 Posted on :Tuesday , 28th May 2019
Unilever Tea Kenya and CrossBoundary Energy have authorized a 619 kWp solar plant at the company's Kericho tea factory. This is the first on-site solar installation for a Unilever facility in Sub-Saharan Africa, and it brings the company near to its target of sourcing 100% of total energy from renewables by 2030.

With the addition of solar PV to its actual hydroelectric and biomass resources, over 90% of Unilever Tea Kenya's energy needs will now be met with clean energy. At the same time, Unilever will save money on its electricity costs. Over 15 years the solar project will avoid nearly 10,000 tonnes of carbon emissions
.
CrossBoundary Energy sells power from the solar plant to Unilever via a creative 15-year power purchase agreement. Only now that the system's installation and experimentation is complete will Unilever begin paying for solar electricity, and CrossBoundary Energy will continue to manage and finance future project operations, maintenance, monitoring, and insurance. Unilever pays monthly, discounted solar electricity bills while remaining covered from the technical and operational risks of operating a solar project for the long-term.

Sylvia ten Den, Managing Director of Unilever Tea Kenya, says, "Installation of solar power at our Kericho operations delivers on our commitment to reduce our environmental footprint. By decreasing the use of energy, raw materials and natural resources, we create efficiencies and cut costs, while becoming less disclosed to price volatility. Besides being more cost-efficient this will save 10,000 tonnes of carbon emissions over 15 years".

Femi Fadugba, Head of Business Development for CrossBoundary Energy, said, "Access to reliable, affordable energy is one of the biggest force to business growth in Africa. CrossBoundary is supporting the continent's leading brands like Unilever to adopt solar solutions all over their operations in Sub-Saharan Africa. CrossBoundary Energy now operates 1.5MW of solar capacity in Kenya with a larger portfolio of over 30MW across Ghana, Rwanda, and Nigeria."

In Kericho, the solar PV panels are installed on a rotating mounting structure that tracks the movement of the sun throughout the day, expanding the plant's power output by 20%. It is the biggest commercial single-axis tracking installation in Kenya to date. Solarcentury East Africa managed engineering, procurement, and construction of this unique project, which employed 40 workers, including 6 women.

Roberto Martin, Director of Solarcentury East Africa, says, "We were delighted to work with CrossBoundary Energy to deliver this first solar plant for Unilever in Africa, which also represents a landmark solar tracker installation in Kenya. It's exciting to see multinationals committed to the RE100 pledge like Unilever, carrying out ground-breaking projects such as this tracker PV plant. With each project we build we are not only fighting climate change, but creating jobs opportunities for young adults and women."