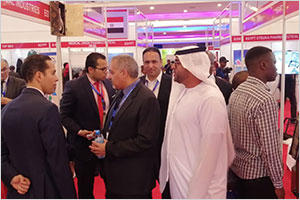 Posted on :Thursday , 17th February 2022
The 23rd edition of Medexpo Africa was inaugurated today by Prof. Abel N. Makubi, PERMANENT SECRETARY, Ministry of Health, Community Development, Elderly, Gender and Children in Dar es Salaam at the Diamond Jubilee Hall. The much awaited trade show is open from 10:00 AM to 6:00 PM for the public for 3 days till 19th of February 2022. This premier exhibition for the medical and healthcare industry is the one place to source new products, services and technology from around the world.

The event's inaugural ceremony was graced by ambassadors from Egypt, USA, Saudi Arabia, India, Korea, Germany and Pakistan along with delegations from supporting organizations such as Tanzania Dental Association, Medical Association of Tanzania, Tantrade & TMDA.
The 3 day international trade event brings to Tanzania exhibitors from various countries showcasing innovative products tailored to the Tanzanian market. The main attraction this time is the Egyptian Pavilion hosting the latest products and innovations from Egypt. Countries participating include Turkey, United Kingdom, United States, Italy, China, India and Spain. Medexpo presents a unique opportunity for all medical and pharmaceutical industry leaders, innovators, business owners, importers, entrepreneurs as well as medical industry professionals like general medical practitioners, surgeons, doctors, physio-therapists, pharmacists, hospital administrators, lab technicians from related industries and backgrounds to source their needs and interact with international brands under one roof.
Prof. Abel N. Makubi in his inaugural address said, "Tanzania has a growing healthcare system. In 2020/2021 the government allocated $387.9 million for the health sector of which $155.5 million will be spent on development projects, which would help the government to implement its health improving initiatives."
The Tanzania Medical & Healthcare industry continues to be the most exciting and developing sector in the economy of the country, attracting thousands of investors. Tanzania with a population of 60 million also assumes the role of a gateway into the East African Region creating free access to a potential 133 million consumer market which is in demand of products like PPE kits, oximeters, breath analyzers, protective masks, medical gloves & shields, disinfectants & sanitizers, infrared thermometers and other medical safety gadgets.
For more information about this event, please visit: https://expogr.com/tanzania/medexpo/